November birthstone charm with topaz colored orange crystal set in sterling silver

at B2C Jewels
I'm completely biased when I announce that these birthstones may be my favorites of them all. Not because topaz and citrine are wonderfully beautiful gemstones, or that the burnished orange hue just so happens to be one of my fave colors, but because November is my birth month. [Cue clouds parting and sun shining down upon me.]
With all that said and done, I want you to love these gemstones as much as I do, so let's just jump right in and look at the tantalizing topaz and captivating citrine.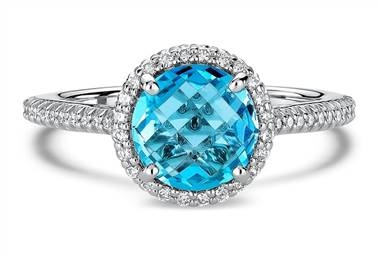 Gabriella right-hand ring set in 14K white gold

at Ritani
I always thought that the stones were interchangeable when I was growing up. After all, they looked so similar that I thought topaz = citrine = topaz. You can't blame me however because even though the stones are different, they are said to offer the same qualities to their wearer. They're known for providing warmth and calm to those who elect to wear them. A very positive effect indeed when most people consider going into hiding until scorpio season – most November babies are scorpios – is officially over.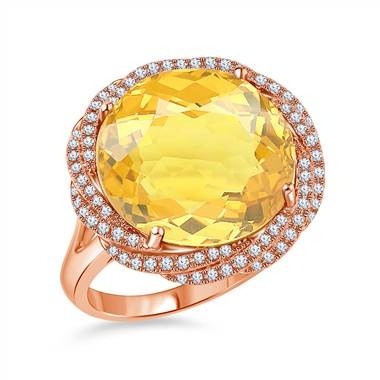 Citrine faceted gemstone diamond halo ring set in 14K rose gold

at B2C Jewels
Although November's birthstone is the yellow topaz, the gemstone comes in much more colors than the one reserved for November. Topaz has long been thought to be a mystical stone which could break curses as well as heal others. As a result, the stone could be quite pricey…that is until massive amounts were found in Brazil and now everyone can afford to have topaz in their jewelry box.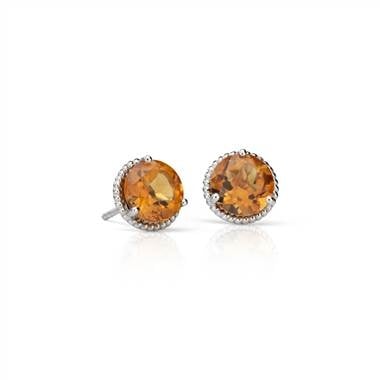 Citrine rope stud earrings set in sterling silver

at Blue Nile
Citrine, named for the yellow hues resembling citrus fruit, is the accompanying partner to topaz. Yet again, like topaz, it has been believed to have the same properties as topaz and large quantities of it are found in Brazil. Now, you can probably see how so many people throughout history and today confuse the two stones. Yet, citrine exploded when it was discovered that heating up the stone gave it a yellow hue which in turn created a more affordable stone. Soon, the gemstone was appearing in accessories everywhere from rings to men's cufflinks.
Mohs Scale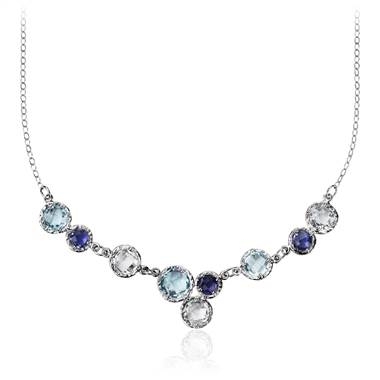 Sky blue topaz, white topaz and iolite bib necklace set in 14K white gold

at Blue Nile
The stones are similar in hardness as well. Topaz is an eight on the Mohs scale whereas citrine is a seven. That makes these stones hardy and a great option to place in rings and bracelets as it will be able to withstand daily wear and tear.
Ack, don't you just love these stones!? They are durable, can heal and ward off bad intentions, look amazing in any type of jewelry and the colors are rich and pure. Really, what isn't there to love?

By PS Staff