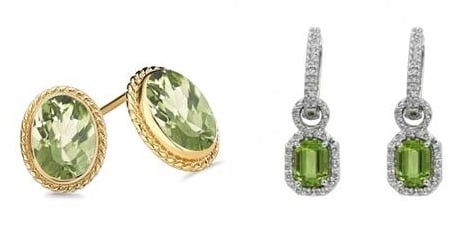 August Birthstone: Peridot
The grass isn't always greener on the other side, that is, unless you're an August baby. Peridot is the rich green birthstone of those born in the eighth month of the year. It is reported to bring luck to those who wear the elegant gemstone.
Peridot Location
Peridot is found in multiple areas throughout the world. It has been mined in Arizona, China, Africa, Pakistan and Myanmar. Although the gem can be found in multiple areas of the globe, there is one feature of the stone which ties it together, regardless of its location.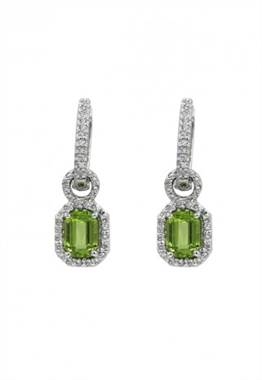 White gold peridot and diamond earrings in 14K white gold

at EFFY
Color
One feature which sets peridot apart from many other gemstones is its color. Not because it is green – after all, one can find many green gemstones throughout the world – but because it is one of only a handful of gems which only comes in one color. That's right, peridot only comes in green. Now, there are varying shades to its green color, however, you will not be able to find peridot in anything but green.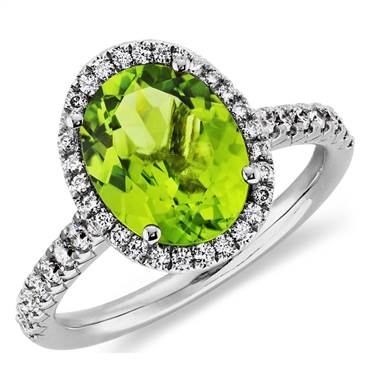 Peridot and diamond halo ring in 18K white gold

at Blue Nile
Durable
Peridot is one strong gem. You don't have to baby it like other gemstones which means that it wears well in any piece of jewelry. Take note however, just because it is strong, doesn't mean it can't chip. Thus, if you have an active lifestyle, it would be best to wear peridot in sturdy settings.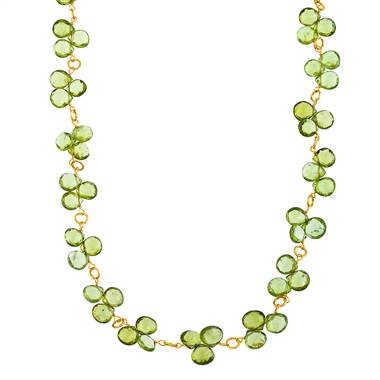 Peridot gemstone faceted briolette necklace in 14K yellow gold

at B2C Jewels
You August babies sure know how to make someone green with envy. Peridot is strong, beautiful and brings its wearers fortune. Now, if that isn't enough to make you believe that the grass really is greener on the other side, then we don't know what will.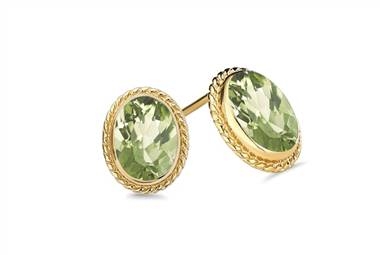 Oval shaped peridot earrings in 14K yellow go

at Ritani

By PS Staff