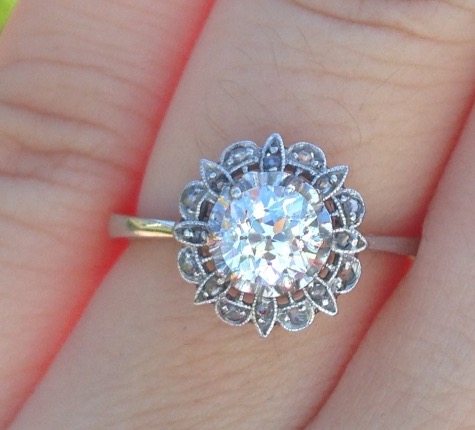 Mico's Antique OEC in Rose Cut Halo
Wow, Mico caught this amazing antique rose cut halo on Ebay, can you believe that? I am often shocked and impressed by the resourcefulness of PriceScopers when it comes to finding fabulous jewelry!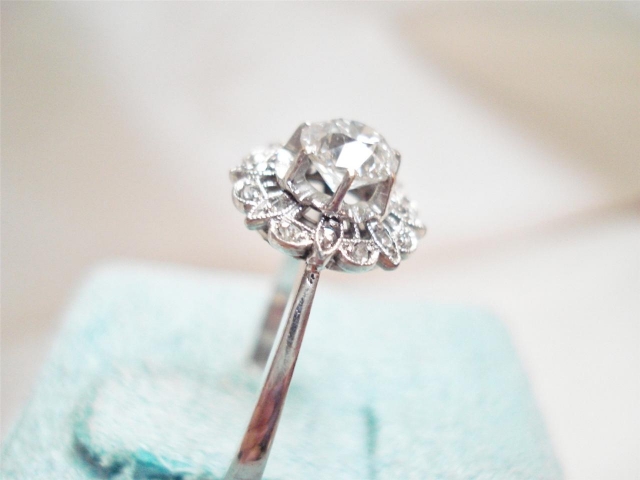 Lacey Halo
That gorgeous setting is so feminine and delicate looking, like a beautiful lace flower. While Mico ultimately decided to list it for sale, it was lovely to get to enjoy the images! Thank you for sharing such a fab find with us!
Per the listing:
Victorian era
OEC measuring 5.23mm in diameter and 3.50mm deep, approximately at least 58 points or .58 carat
Very very tiny inclusion looking under the loupe, it is very sparkly
Estimated to be at least G to H in color and SI in clarity
Around the center stone are 16 rose cut diamonds.
Size 7, can be resized and weighs 2.8 grams or 1.8 dwt
Very old, pre-loved with minor wear, gorgeous details and in great condition
To read the entire post with lots of pics, click here
On Throwback Thursdays, we take the opportunity to re-appreciate beautiful pieces that have been shared over the years!
Thank you so much for sharing your jewelry experiences with us. Keep revisiting PriceScope's past with us each Thursday!
#TBT
You can sell your pre-loved jewelry to fellow PriceScopers on the forum!
To learn more about Antique and Vintage Jewelry on the PriceScope forums!