Jewelry Looks to Covet
Here comes Peter Cottontail, hopping down the bunny trail… Yay! Easter is almost here and that brings amazing fashions. Now, we know there is enough pastel looks for everyone, but we decided that instead of focusing on those, why not highlight some of our favorite pieces from the PriceScope gallery?
We know you won't be disappointed and you will still have a bit of time left to grab a special treat just for Easter.
Step aside Cartier because there's a new panther in town. We've had our eye on this for a very long time and we finally have a reason to show it off. You will definitely be the envy of everyone who sees you wearing this big cat. The good news is that animals and pendants are in so you can't go wrong when you put this beauty in your jewelry zoo.
Signature 14K yellow gold diamond and emerald pendant

at EFFY
We have been in love with this morganite french cut pave engagement ring since we first laid eyes upon it. How could you not love it, especially when everyone is going crazy over non-traditional engagement rings? Now is the perfect time to add this beauty to your jewelry lineup because if you don't someone else will.
Morganite French cut pave engagement ring

at Adiamor
Tennis bracelets never go out of style which is why we believe they should be a staple of your jewelry wardrobe. This one is one of our favorites because it takes the traditional tennis bracelet, then selects a modern rose gold to complement the diamonds. Tres chic if we do say so ourselves!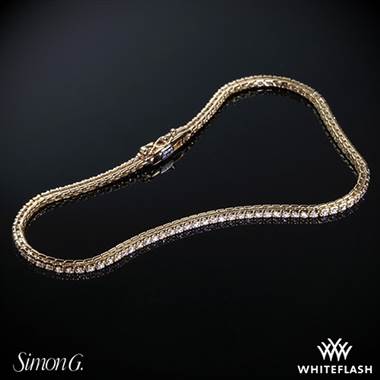 Simon G. caviar diamond bracelet set in 18K rose gold

at Whiteflash
Ahh, can you imagine how beautiful this bracelet will look against a beautiful white Easter dress? There are fewer looks we love more than yellow gold paired with a white dress. We think you should buy a white outfit just to wear with this dress. After all, now you have a reason to show twice!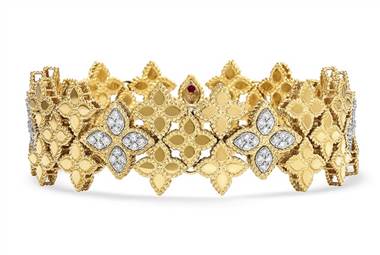 Roberto Coin princess flower wide link diamond bracelet in 18K yellow gold and 18K white gold

at Ritani
Red never goes out of style which is why you should do whatever you can to wear this necklace. Garnet's are affordable, yet luxurious gemstones and we implore you to have some garnet pieces in your jewelry box.,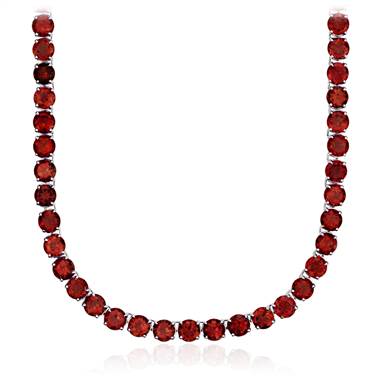 Garnet Necklace in sterling silver

at Blue Nile
These are looks we have been coveting for Easter and beyond. There is still some time for you to run out and purchase one (or all) of these pieces for yourself. Whether you want to make a statement in ravishing red or luxurious gold, one thing is for sure, no one will be able to call you unfashionable!

By PS Staff