By Erika W.

Fabulous Jewelry, Diamonds, and Gems Shared by Pricescope Members
This week we are featuring a unique collection of fancy colored diamonds posted by kenny. Thanks everyone for posting your gorgeous jewelry, diamonds and gems in the Show Me the Bling and Colored Stones Forums!
Fancy a Colored Diamond?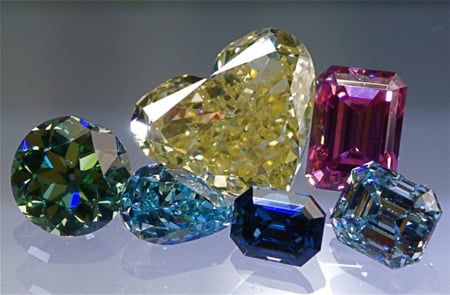 Posted by kenny
Update: My Tiny Fancy Colored Diamond Collection
Kenny's fancy colored diamond collection showcases a variety of rich colors and different fancy shapes. Clockwise: Fancy Yellow heart shape, Fancy Deep Purple Pink emerald cut, Fancy Light Bluish Green emerald cut, Fancy Deep Blue emerald cut, Fancy Intense Green Blue pear cut, and Fancy Intense Green old European cut.
Fancy colored diamonds have been in the news lately with the recent auctions of The BVLGARI Blue Diamond and The Graff Pink. This comes as no surprise to fancy colored diamond aficionados, but it is refreshing to see these wonders appreciated by a wider audience.
Related Threads and Blogs:
GIA color grading of red diamonds
Should I buy this tiny blue diamond?
Three stone engagement ring with pink diamonds
Share your fancy color diamond! Show Me the Bling!