By
Erika Winters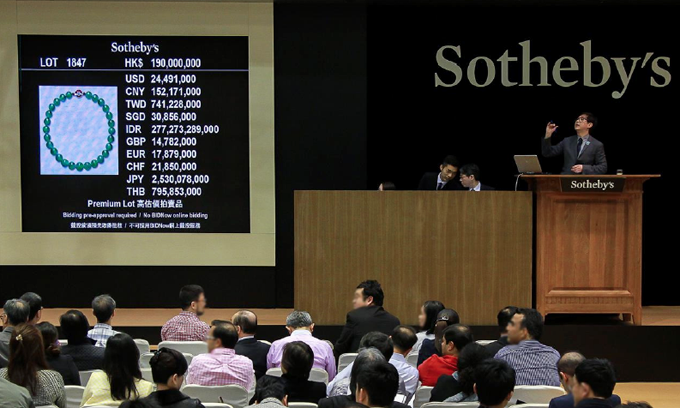 Sotheby's Image: The Hutton-Mdivani necklace sold for $27.4 million at Sotheby's Hong Kong on April 7, 2014.
The Hutton-Mdivani jadeite necklace sold for $27.4 million and set two new world auction records at Sotheby's Hong Kong Magnificent Jewels and Jadeite spring sale, on April 7, 2014. The jadeite bead necklace with a Cartier ruby clasp broke records for both a jadeite jewel and a Cartier jewel sold at auction.
According to Sotheby's, the auction was one of the most exciting in history, as eight bidders competed for twenty minutes driving the auction price to double its original estimate of $12.8 million. The necklace was acquired by the Cartier collection.
From Sotheby's:
The Hutton-Mdivani necklace has the most illustrious provenance spanning members of Western nobility and Imperial China since the turn of last century, and is widely recognised as the most important piece of jadeite jewellery known to the world. This jadeite bead necklace, with an innovative clasp by Cartier, comprises 27 gigantic jadeite beads of magnificent green colour, excellent translucency, extremely fine
texture and majestic proportions, with diameters ranging from 19.20 mm to 15.40 mm.
Visit Sotheby's to learn more about the Hutton-Mdivani necklace.
Sotheby's Hong Kong jewelry auction garnered a total of $106.6 million. The auction house also set a new world auction record for a ruby, selling a 29.62-carat ruby and diamond ring by Cartier for $7.3 million.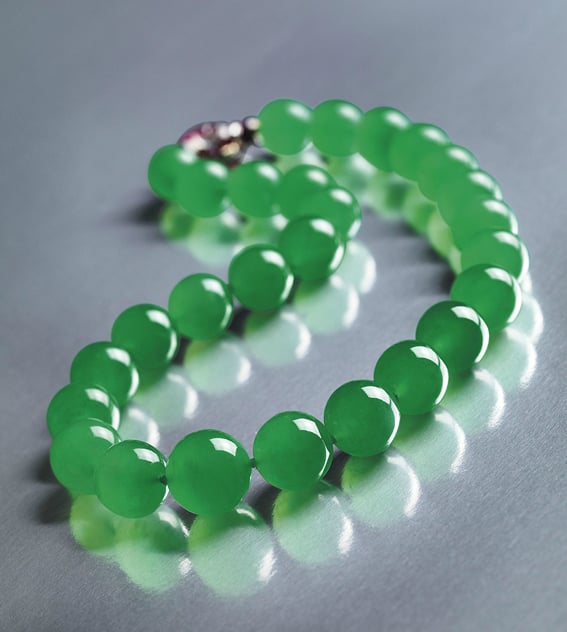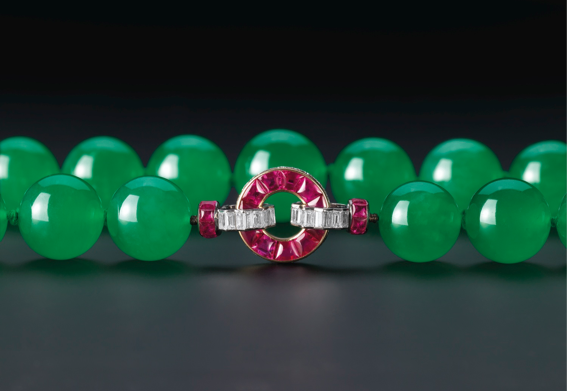 The Hutton-Mdivani jadeite necklace sold for $27.4 million and set two world auction records at Sotheby's Hong Kong Magnificent Jewels and Jadeite spring sale. Images: Sotheby's
29.62-carat Burmese ruby and diamond ring by Cartier sold at Sotheby's Hong Kong for $7.34 million. The ring's sale set a new world record for a ruby sold at auction. Image: Sotheby's
More jewelry auction news:
59-Carat "Pink Star" Diamond Sells for World Record $83 Million

14.82-Carat Orange Diamond Sells for Record $35.5 Million at Christie's
Sotheby's to Auction Rare 7.59-Carat Fancy Vivid Blue Diamond