By Erika W.
Legendary jewelry house Fabergé has announced its first collection of jeweled eggs since 1917. The couture line of eggs, "Les Fameux de Fabergé," will be on exhibition from July 18 to August 21 at Fabergé Geneva. The new Fabergé eggs pay homage to the original Russian Imperial eggs designed by Peter Carl Fabergé, and they will retail for up to $600,000. "Les Frissons de Fabergé," a collection of egg pendants will also be available.
After decades "in the shadows" the Fabergé jewelry brand was relaunched in 2009 with new fine jewelry collections. "The Fabergé Egg is one of the most iconic and emotive objects in history and is inextricably associated with the story and genius of my great grandfather's works of art. When it comes to Fabergé and the egg, it is hard to think of one without the other. It has been our family's life ambition to restore the unsurpassed standards of his design and workmanship and these egg pendants are a momentous achievement. We have been waiting for this moment for a very long time," said Sarah Fabergé, great granddaughter of Peter Carl Fabergé.
Fabergé also plans to open a store in London and is seeking a location for a store in New York City.
Historic Fabergé Eggs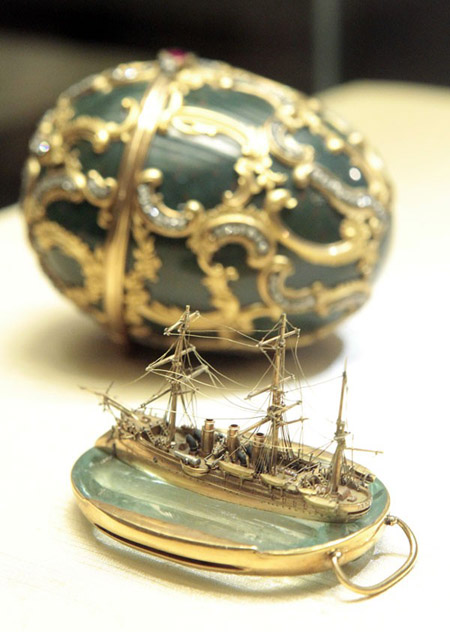 Photo: Reuters
The "Memory of Azov" egg was created for Tsar Alexander III in 1891. The egg is carved from one piece of bloodstone and is encased in Rococo gold scrolls with diamonds. An intricate miniature of the ship, "Memory of Azov," rests on top of an aquamarine representing water. The ship is made of gold and platinum with diamond accents.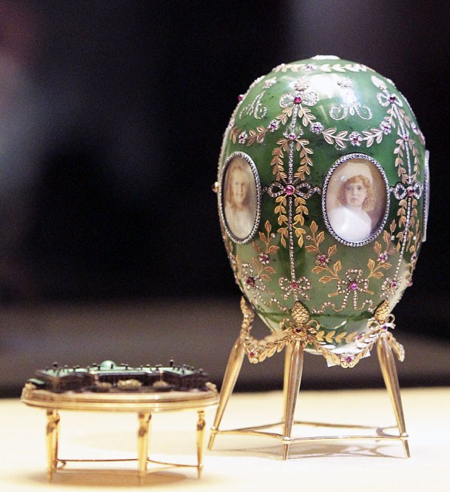 Photo: Reuters
The "Alexander Palace Egg" was created for Tsar Nicholas II in 1908. The egg is made of nephrite jade with gold, rose cut diamonds and rubies. Miniature watercolor portraits of the Tsar's children rest on each face of the egg. The surprise element, which is found in all of the Imperial Easter eggs, is a miniature of Alexander Palace made from enamel and gold with rock crystal windows. The egg was given to his wife, Empress Alexandra.
Related Topics:

List the 3 best jewelry houses
Good estate jewelers with an online presence?
Discuss Fabergé on the Diamond and Jewelry Forum