As we went through the posts to determine the Jewel of the Week, it was this particular post that stopped us in our tracks, Exquisite Bling For a Milestone Birthday. Earlier this month PriceScope member Mrs-b celebrated her milestone 60th Birthday. She took to the Show Me the Bling! forum to show off her exquisite new birthday jewels. Let's take a look at what Mrs-b received this year.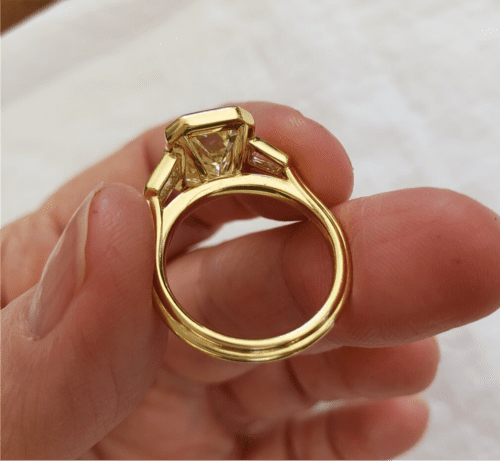 Amongst the many gifts, she received, it was of course her new 4.07ct, S-T color Emerald Cut Yellow Gold ring that stood out from the rest. Gifted by her husband, this luscious yellow gold ring symbolizes strength and beauty. A token to resemble eternal love. She named her new ring "Boadicea the Valiant" an exquisite name for an exquisite ring. 
After reading Mrs b's post, not only was the bling intoxicating I also found myself singing "I'm Still Here" from Follies.
"Good times and bum times, I've seen 'em all
And, my dear, I'm still here
Plush velvet sometimes
Sometimes just pretzels and beer, but I'm here
I've run the gamut, A to Z
Three cheers and dammit, C'est la vie
I got through all of last year, and I'm here
Lord knows, at least I was there, and I'm here
Look who's here, I'm still here"
Let's take a closer look at what else she received… 
REWORKED GYPSY RING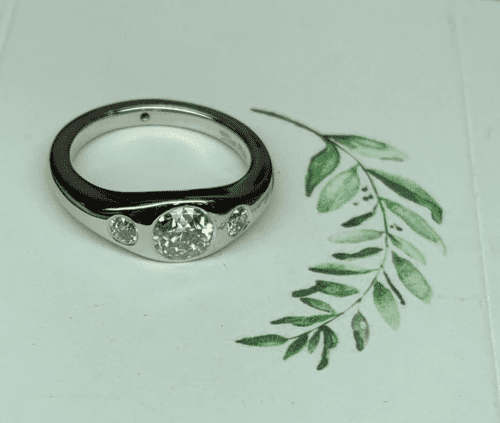 This is a duplicate of Mrs-b's original gypsy ring with a slightly larger OEC in the center, and 2 10pt AVRs on either side. The sides are E color and the center is an F. LOTS of platinum in this! Tiny diamond in the back set in a starburst pattern. 
DIAMOND AND PLATINUM BANGLE
A new 5+ctw diamond and platinum bangle made to match the one she owned about 4 years ago. So now, she enters her 60th year with 10+ctw and a bunch of sparkle on her wrist! The new bangle is from her wonderful friends to soften the blow of her 60th birthday and as you can see they went all out to make it clear they're glad she's still in their life.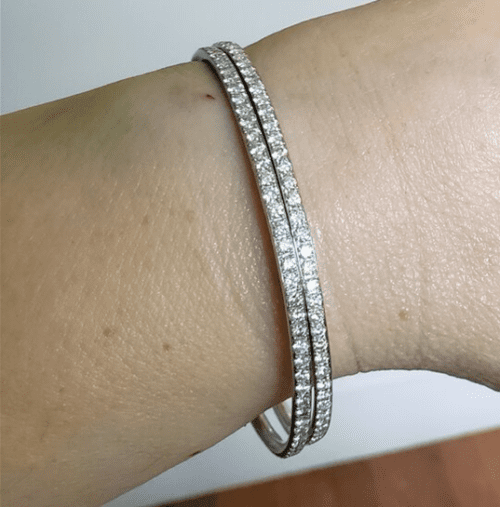 Side note, I have decided to celebrate my birthday over two days this year. After all, it is 2020 and anything is acceptable!
Go to the original post to view more images of Mrs-b's birthday jewels, read the original thread, and wish Mrs-b a Happy belated Birthday. 
What bling is on your birthday wishlist? Let us know in the comments section below. 
The JOTW is our opportunity to feature and showcase one lucky Jewel of the Week from the Show Me the Bling! forum