Niel posted this absolutely glorious diamond dinner ring on the Show Me the Bling Forum at PriceScope.com. This bling wowed the crowd for sure. Can you blame us, this is fantastic and Niel has a real knack for finding the most fabulous jewelry in the most unexpected ways, like this TDF ring was from ebay! My mind is seriously blown, I am in love with this diamond dinner ring and the dibs list is already growing should Niel ever want to part with it!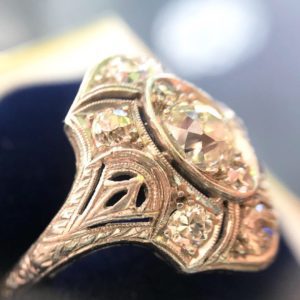 Niel typically wears mostly yellow gold, but this beautiful platinum art-deco ring looks marvelous on her finger. It arrived in her size, it was kismet. I never seem to just happen upon such luck, but I am so glad that I get to live vicariously through PriceScopers like Niel who have so much taste and talent that they share with us! Amazing find, Niel, congratulations! Thank you for sharing!
Go see the post with more pics!
The Jewel of the Week is our chance to feature and appreciate a recently posted piece from the Show Me the Bling Community!
Thank you so much for sharing your jewelry experiences with us. We look forward to seeing more!
#JOTW
Do you know your basic engagement ring anatomy?  Learn more about engagement rings, here
Come show off YOUR fantastic bling with fellow jewelry lovers and trade professionals in the Show Me the Bling Community, here