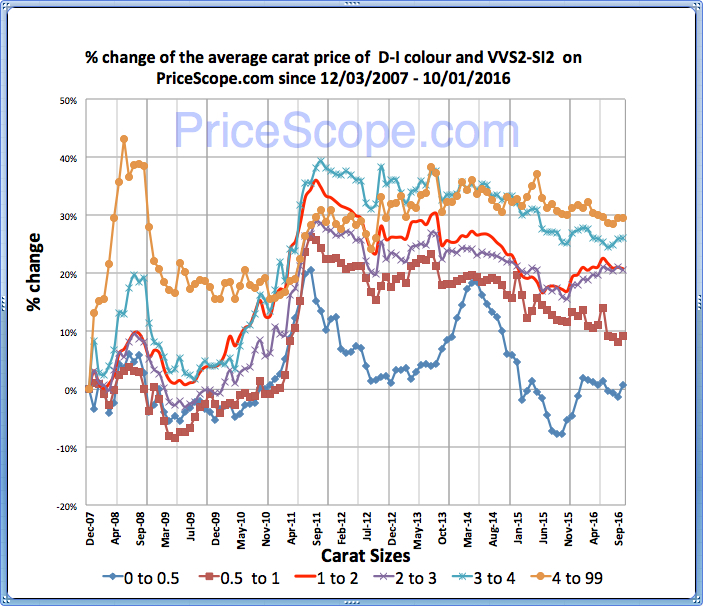 Pricescope Updated Retail Diamond Price Chart
Retail diamond prices had minor changes for September. Retail diamond price changes are based on Pricescope's database of over 450,000 diamonds from retail and online jewelers. Read more about diamond price changes below. Pricescope has been charting retail diamond prices since 2007.
Diamond Price Changes For August 2016
Diamond Carat Sizes
10/1/2016
0.0 – 0.5
2% ↑
0.5 – 1.0
1% ↑
1.0 – 2.0
0%
2.0 – 3.0
-1% ↓
3.0 – 4.0
0%
4.0 – 99
0%
Read some of the latest stories in diamond price news…
Rapaport: Diamond Prices Stable in September
Diamond markets were steady in September. Sentiment improved as trading at the Hong Kong Jewellery & Gem Fair, a bellwether for the industry, was better than expected even though buyers refrained from large inventory purchases. The polished market was supported by relatively high rough prices as suppliers held polished prices firm, preferring to delay sales rather than suffer losses from expensive rough.

IDEX Online Research: Polished Price Report – September 2016

Price movements were, in general, fairly evenly balanced, with similar numbers of risers and decliners in round goods in September, with stones under 1-carat and those in the 1.50-3.99 carat showing the most fluctuations.

Polished Prices:
Index continues downward drift
The main polishedprices index opened down 0.4% compared to the previous Monday at 119.9 points. The overall index is 5.1% lower than this time last year, and is 2.4% below its 2016 starting point.
#Diamond Prices