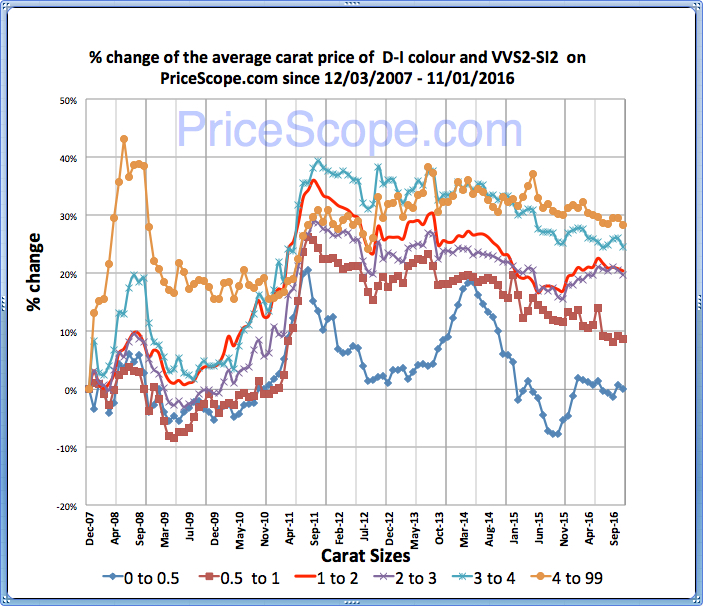 Pricescope Updated Retail Diamond Price Chart
Pricescope has been charting retail diamond prices since 2007.
Retail diamond prices had minor changes for October. Retail diamond price changes are based on Pricescope's database of over 450,000 diamonds from retail and online jewelers. Read more about diamond price changes below.
Diamond Price Changes For October 2016
Diamond Carat Sizes
11/1/2016
0.0 – 0.5
-1% ↓
0.5 – 1.0
-1% ↓
1.0 – 2.0
0%
2.0 – 3.0
-1% ↓
3.0 – 4.0
-1% ↓
4.0 – 99
-1% ↓
Read some of the latest stories in diamond price news…
Rapaport:
Diamond Prices Decline in October
Diamond markets were quiet in October with wholesale businesses closing for the respective Chinese, Jewish and Indian holidays. Trading slowed as larger U.S. holiday orders were already filled and dealers shifted to accommodate specific requirements from their retail customers.
IDEX Online Research: The IDEX Online Polished Price Report – October 2016
Sporadic price movements were recorded in almost every category of round goods up to 3.00 carats in October, while 4.0 and 5.0 carat goods saw hardly any fluctuations. While movement was mixed in most size categories, a downward trend of 2-3% is notable in the 0.9-1.00 carat range.

Polished Prices:
Polished index at lowest level since March 2010
With the diamond markets slowing ahead of the Diwali holidays, the overall polishedprices index slumped to its lowest level since March 2010.
#Diamond Prices