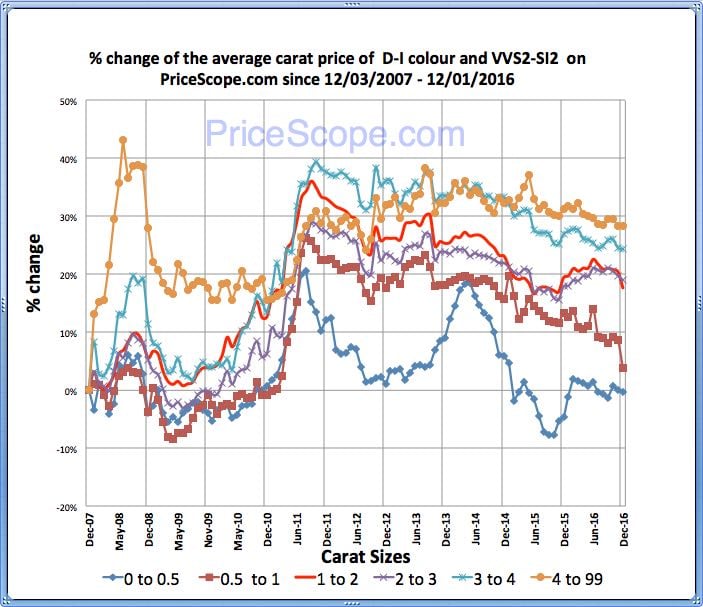 Pricescope Updated Retail Diamond Price Chart
Pricescope has been charting retail diamond prices since 2007.
Retail diamond prices had minor changes for November. Retail diamond price changes are based on Pricescope's database of over 450,000 diamonds from retail and online jewelers. Read more about diamond price changes below.
a
Diamond Price Changes For November 2016
Diamond Carat Sizes
12/1/2016
0.0 – 0.5
0%
0.5 – 1.0
-5% ↓
1.0 – 2.0
-3% ↓
2.0 – 3.0
-1% ↓
3.0 – 4.0
0%
4.0 – 99
0%
Read some of the latest stories in diamond price news for December…
Rapaport:
U.S. Polished Diamond Imports Decline
U.S. polished diamond imports fell 3 percent to $2.09 billion in October, according to government data. Polished imports by weight slid 6 percent to 1 million carats, while the average price increased 3 percent to $2,071 per carat. Polished diamond exports declined 2 percent to $1.3 billion, driving net imports down 5 percent to $794 million.
The IDEX Online Polished Price Report – November 2016

Price movements were recorded in almost every category of round goods up to 4.00 carats in November, while 4.0 carat goods saw fewer changes and 5.0 caraters hardly any at all. There was more upward movement overall than in October. There was a noticeable rise of 3% in 0.50-0.69 carat goods in the D-H, IF-VVS1 categories.

Polished Prices:
Polished index touches new lows
The main polishedprices index opened level compared to the previous Monday at 117.0 points. The overall index is 5.2% lower than this time last year, and is 4.7% below its 2016 starting point.
#Diamond Prices