Retail diamond prices had minor changes for August. Retail diamond price changes are based on Pricescope's database of over 450,000 diamonds from retail and online jewelers. Read more about diamond price changes below.
Pricescope Updated Retail Diamond Price Chart
Pricescope has been charting retail diamond prices since 2007.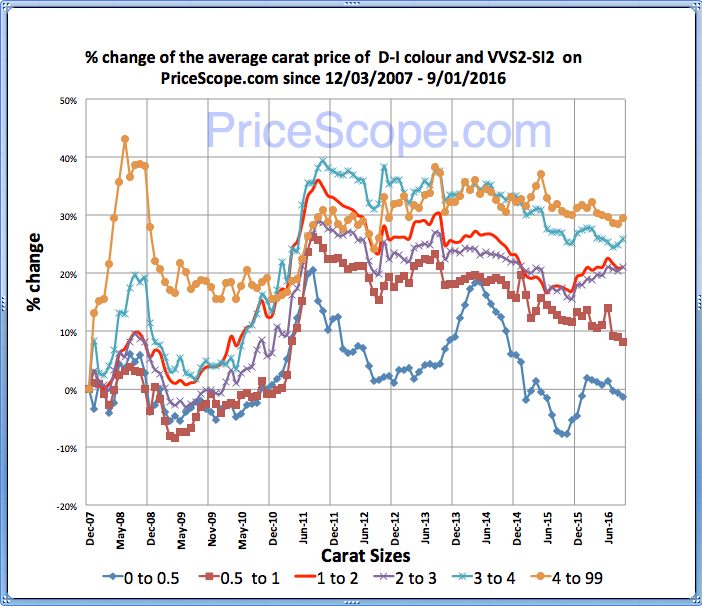 Diamond Price Changes For August 2016
Diamond Carat Sizes
9/1/2016
0.0 – 0.5
-1% ↓
0.5 – 1.0
-1% ↓
1.0 – 2.0
0%
2.0 – 3.0
1% ↑
3.0 – 4.0
1% ↑
4.0 – 99
1% ↑
Read some of the latest stories in diamond price news…
Rapaport: Diamond Prices Mixed in Slow August Trading
One-carat diamond prices remain under pressure with low trading volume during the August vacation period. Polished inventory is increasing with steady manufacturing and sluggish demand as dealers prepare for the fourth-quarter holiday season. Some improvement in under-the-carat goods as Chinese bridal demand stabilizes.
IDEX Online Research: The IDEX Online Polished Price Report – August 2016
Price movements were mixed in round goods in August, with items of less than 1-carat showing the most fluctuation. There were a number of rises in prices of items in the range of 0.23 to 0.29 and 0.30 to 0.39 carats. Meanwhile, in 3-carat and 5-carat items, changes were much more moderate.

Polished Prices:
Downward pressure on polished prices continues
With the diamond markets returning to full volumes after the summer holidays, polished prices remain under pressure.