Retail diamond prices had no changes for July . Retail diamond price changes are based on Pricescope's database of over 450,000 diamonds from retail and online jewelers. Read more about diamond price changes below.
Pricescope Updated Retail Diamond Price Chart
Pricescope has been charting retail diamond prices since 2007.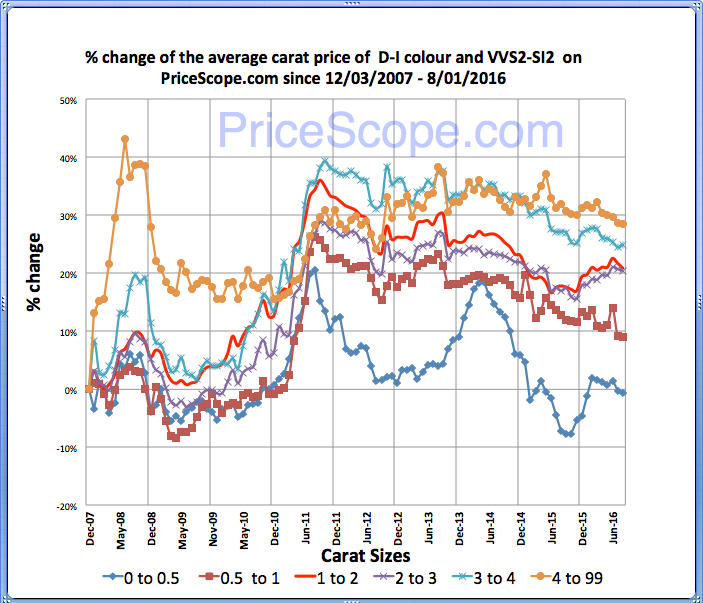 Diamond Price Changes For July 2016
Diamond Carat Sizes
8/1/2016
0.0 – 0.5
0%
0.5 – 1.0
0%
1.0 – 2.0
-1% ↓
2.0 – 3.0
0%
3.0 – 4.0
0%
4.0 – 99
0%
Read some of the latest stories in diamond price news…
Rapaport: Diamond Prices Decline in July
Polished diamond prices softened in July continuing the downtrend in the second quarter. Diamond markets were seasonally quiet with U.S. wholesalers taking their annual summer vacation. Overall polished demand remains weak.
IDEX Online Research: Polished Price Changes – July 2016
Movement in the better quality of round goods was somewhat limited during July, with items of less than 1-carat showing the most fluctuation. Goods in the 1.00-1.24-carat showed both upward and downward variation in higher quality items. There was not too much significant change either up or down in 3-carat and 5-carat items, but I1 4-carat goods showed a decrease through the majority of colors.

Polished Prices:
Prices pick up in light trading
The main polishedprices index opened 0.3% higher compared to the previous Monday at 120.1 points. The overall index is 7.1% lower than this time last year, and is 2.2% below its 2016 starting point.