Diamond Prices Update For June 2016
Retail diamond prices decreased in June . Retail diamond price changes are based on Pricescope's database of over 450,000 diamonds from retail and online jewelers. Read more about diamond price changes below.
Pricescope Updated Retail Diamond Price Chart
Pricescope has been charting retail diamond prices since 2007.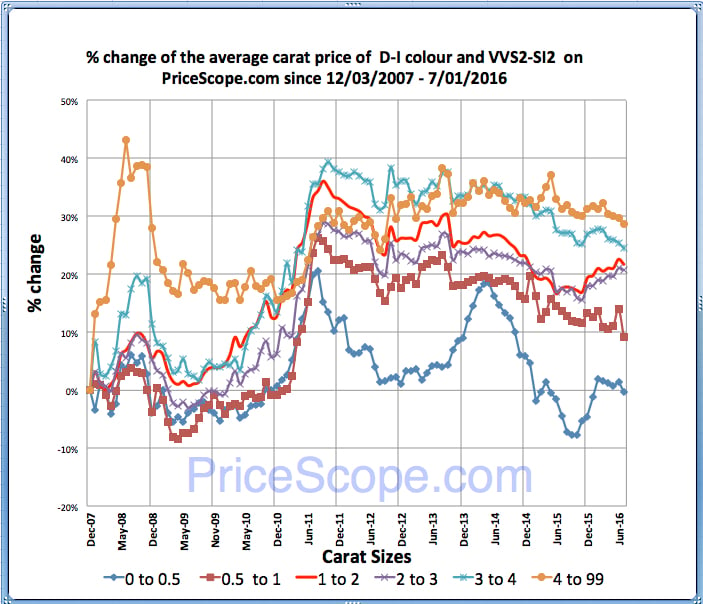 Diamond Price Changes For June 2016
Diamond Carat Sizes
7/1/2016
0.0 – 0.5
-2%↓
0.5 – 1.0
-5%↓
1.0 – 2.0
-1% ↓
2.0 – 3.0
0%
3.0 – 4.0
-1% ↓
4.0 – 99
-1% ↓
Read some of the latest stories in diamond price news…
Rapaport: Diamond Prices Soften in May
Polished diamond prices declined slightly in May with buyers waiting for the Las Vegas shows. Trading at the JCK Las Vegas show, which took place June 3 to 6, was relatively weak with traffic slower than previous years.
IDEX Online Research: Polished Price Changes – June 2016
Price changes in round diamonds were more pronounced in goods of less than 1 carat, albeit that there was less visible movement across all sizes than in previous months. Goods in the 1.00-1.24-carat range were largely static. Many items in the 3.00-3.99-carat range showed positive movements, but there was very little change in items sized 4 carats to 5 carats.

Polished Prices:
Index fails to hold gains
The overall polishedprices index failed to hold on to gains made at the start of the week and drifted back steadily.