By Erika W.
Some of the latest stories in diamond and jewelry news…
JCK News: The Vivid Yellow Fetches $6.6 Million
A rare, highly saturated 32.77 ct. fancy vivid yellow diamond sold for $6.6 million at Christie's New York's Magnificent Jewels sale Oct. 18.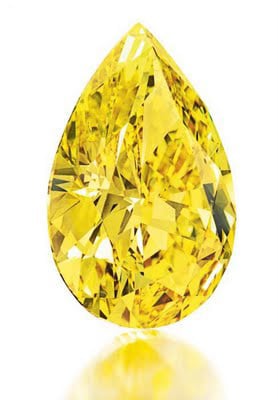 Photo: Christie's
Idex: Tiffany & Co. Creates Fine Jewelry for the Great Gatsby
When it comes to style from the Jazz Age, there's no greater expert than Tiffany & Co., which it is why it comes as no surprise that the luxury jewelry brand recently announced a partnership with Warner Bros. Pictures and Bazmark to be the fine jeweler for Baz Luhrmann's The Great Gatsby.
Bloomberg: De Beers Sees Diamond Price Steadying After Rising More Than 35%, CEO Says
De Beers, supplier of about a third of the world's rough diamonds, said prices of the gems may "stick" at current levels after demand from India and China spurred a rally of more than 35 percent this year.
Rapaport News: Emeralds for Elephants Auction Raises $750K
Gemfields' "Emeralds for Elephants" collection raised $750,000 at auction with $150,000 of the proceeds going to the World Land Trust and Wildlife Trust of India's conservation projects in India.
JCK's Rob Bates: Will Fair Trade Diamonds Rise Again?
The State Department, I always assumed, typically hosts discussions about weighty matters of foreign policy—not the ins and outs of marketing a diamond brand.
Associated Press: Marines to allow troops to wear KIA bracelets that used to be called 'unauthorized jewelry'
The top Marine Corps general has decided to allow his troops to wear bracelets commemorating friends killed in action, settling a debate that has roiled some in the force.
New York Magazine: Courtney Love Owes Over $100K of Missing Jewelry
The tricky thing about being fabulous enough to borrow thousands of dollars' worth of jewelry for parties is that you have to remember to return it afterward.
Related Topics:
Diamond and Jewelry News Roundup – September 19, 2011
Diamond Prices News Roundup – September 2011