By Erika W.
They call it an ATM, but we like to think of it as a vending machine for those hungering for a gold bar or a quick diamond goodie. If you're in Mumbai, you'll be able to visit this new machine, which dispenses diamond jewelry, gold coins, bars, and other sparkly sundries. Customers can simply tap the touch screen to choose from up to 36 items valued from $20 to $650.
The machine was launched by the Gitanjali Group as a part of the company's "Go for Gold" campaign promoting the purchase of gold. A network of these gold dispensing ATMs will be installed in high foot traffic areas including airports and temples.
"The machine is a first of its kind anywhere in the world and will further revolutionise the processes by which precious metals and jewellery is bought. It has a particular significance in India, where usually such items are purchased as tokens to observe traditions on auspicious days. But it also offers choices for occasions like Valentine's Day, or to a husband who forgot an anniversary or his wife's birthday," said Sanjeev Agarwal, CEO, Gitanjali Export Corporation Ltd.
Now that's handy!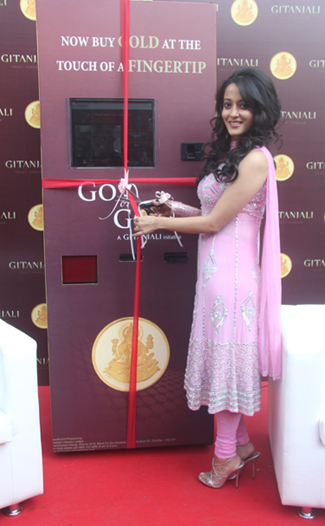 Photo: Gitanjali Group
Bollywood star Raima Sen unveils the new gold and diamond jewelry dispensing ATM machine.
Related Topics:
$15K Diamond Contact Lenses – Need some twinkle in your eyes?

Bubble-icious – Gold Prices Plunge