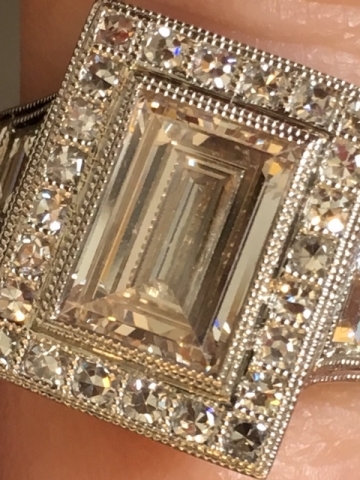 The Unbelievable Uni! (JOTW, a piece originally posted by Dee*Jay)

at Show Me the Bling Forum at PriceScope.com.
Dee*Jay shared this jaw dropping Ring on the Show Me The Bling Community at PriceScope.com. Every week I get the privilege of choosing a Jewel of the Week, one special piece that I really am excited to celebrate; I sincerely enjoy getting to share in parts of your life. Being invited on your jewelry journeys feels like an intimate gift, like we are all sharing in a decadent secret. This weeks ring is another stunning example of that, it let's us take another peek into the life of Dee*Jay and her incredible taste!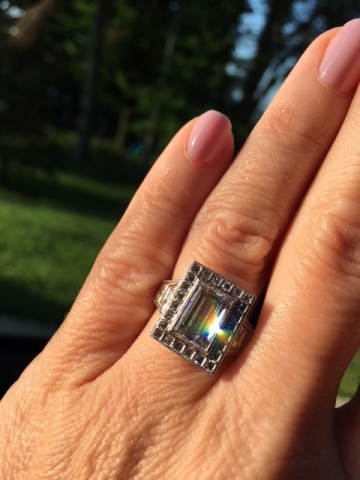 Somewhere Over the Rainbow
This was a loose diamond that looked less than awesome on paper. It was put in a setting because it just wasn't selling as a loose stone. Dee*Jay, knew how to see the potential that could be unlocked in this stone, how to create something really phenomenal, she however was not interested in the rose gold setting it had been mounted in. What is on paper is important, but never as important as the beauty of the piece, and how it makes you feel when you get to look at it and wear it. The stone was discovered in an estate and then sold by Park's Fine Group in NY, but the very nice Alex Park, set in an incredible David Klass creation that absolutely showcases this diamond and gives it a sparkle and life that it may not have known otherwise. This is combination of knowledge, talent, and a little bit of luck has manifested in a ring that is exceptional! Congrats on another fab piece, Dee*Jay!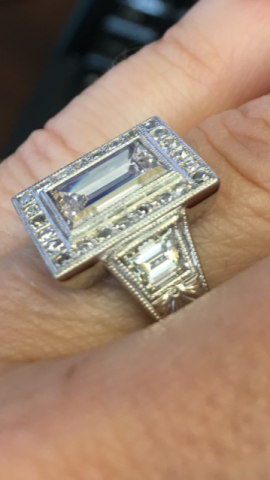 Just fabulous"
Go see the post with more pics and the full story! Follow me to the bling!
The Jewel of the Week is our chance to feature and appreciate a recently posted piece from the Show Me the Bling Community!
Thank you so much for sharing your jewelry experiences with us. We look forward to seeing more!
#JOTW
Do you know your basic engagement ring anatomy? Learn more about engagement rings, here.
Come show off YOUR fantastic bling with fellow jewelry lovers and trade professionals in the Show Me the Bling Community, here.