Focusing on Eternity
Dee*Jay shared this fabulous Eternity Band Remake on the Show Me The Bling Community at PriceScope.com Apparently this week is Eternity Band week for me, the #tbt and the #jotw are both incredible examples of this style! Getting an Eternity band made to celebrate a milestone, in this case her Master's Degree, is incredible. Though after 18 years of it not being the piece she wanted it to be, Dee*Jay had it remade into the ring she really wanted it to be!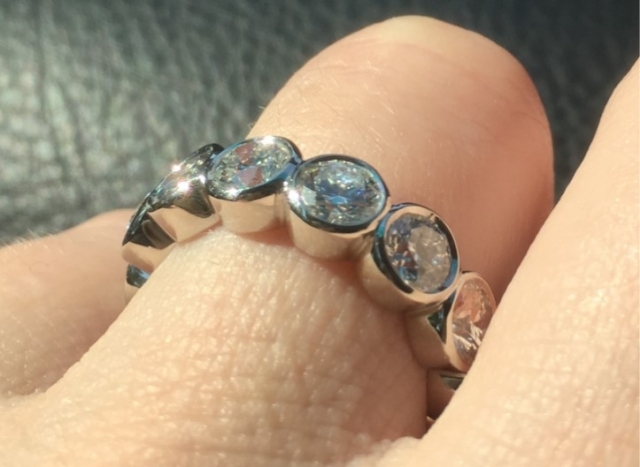 Ready for the closeup
The first jeweler who made this ring for Dee*Jay decided that they knew better than she did about what she wanted in this ring. Chatting with the Whiteflash team at the PS GTG gave her the inspiration she needed to have this ring revisited and made into a new favorite piece. Getting it remade bezel set was the best call for this one, and for Dee*Jay, it's just gorgeous! Congratulations on making it what you needed it to be to enjoy it fully, and thank you for sharing it with us so that we could enjoy it too!
Go see the post with more pics! Follow me to the bling!
The Jewel of the Week is our chance to feature and appreciate a recently posted piece from the Show Me the Bling Community!
Thank you so much for sharing your jewelry experiences with us. We look forward to seeing more!
#JOTW
Do you know your basic engagement ring anatomy? Learn more about engagement rings, here.
Come show off YOUR fantastic bling with fellow jewelry lovers and trade professionals in the Show Me the Bling Community, here.