By Erika W.

Let's talk Luxury
We started a thread asking about the Luxist Top Ten List of Luxury brands. Some brands were debatable according to PS response, and the definition of luxury was called into question. We all have our own specific ideas about what constitutes a luxury jewelry brand or item, but there are some brands that are unequivocally…luxurious, and I'd like to start with the first House that comes to mind.
Cartier
"Jeweller to Kings and King of Jewellers" – Albert Edward, Prince of Wales
King Edward VII, named Cartier the official jeweler of the Royal Court in 1904.
The famed house of legendary jewels, Cartier graced the art of adornment. We will be discussing iconic Cartier jewelry for the next several weeks, so stay tuned.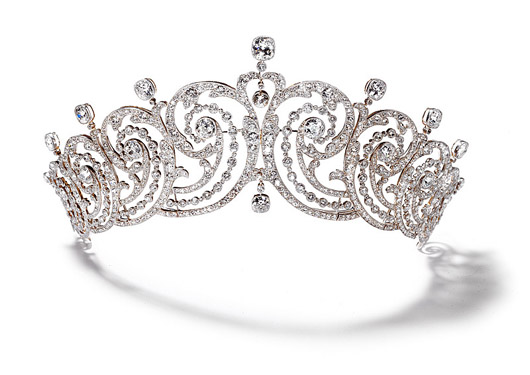 Cartier Foliates Tiara (1902)
Photos N. Welsh, Collection Cartier © Cartier
This diamond tiara was made for the Countess of Essex in 1902. The tiara exemplifies the Garland or Edwardian style of jewelry, which is known for its precise and intricate weavings of floral motifs, vines, leaves, ribbons and lace. Jewels from this period reveal diamonds, pearls, and colored gems, carefully crafted in platinum, or in the case of the tiara above, silver topped gold. The style was shaped by the House of Cartier, who drew inspiration from 18th century French royal jewels.
Cartier Legends
Royalty, celebrity, whimsy and Grace…Cartier Jewels fit for a Princess. Grace Kelly embodied the legendary style of Cartier. In the next few days we will explore other Cartier style icons, so watch this space for updates.
Princess Grace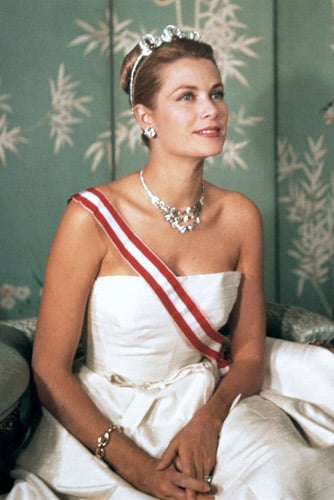 Grace Kelly wearing Cartier Jewelry
from Prince Rainier III of Monaco
Royal Jewels Thread
Grace Kelly met Prince Rainier III of Monaco in 1955. After a short courtship, he gave the actress a ruby and diamond band, and then he subsequently gave her a 10.47ct Cartier emerald cut diamond engagement ring. She was showered with Cartier bridal jewelry including a platinum and diamond necklace and tiara.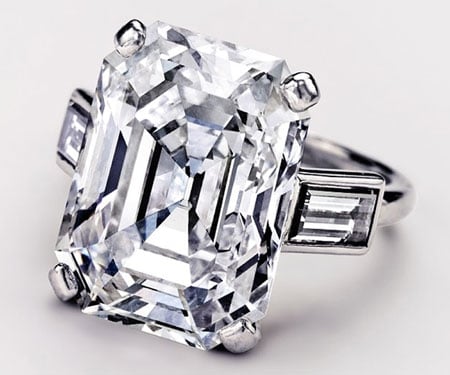 Grace Kelly's 10.47ct Emerald Cut Engagement Ring
from Prince Rainier III of Monaco
Posted by Imdanny
The notable 10.47ct Cartier emerald cut diamond engagement ring was recently on display at the Cartier and America exhibit in San Francisco, along with jewelry worn by the princess in her portrait.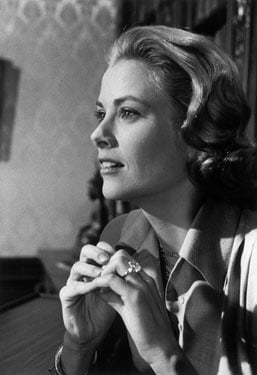 Grace Kelly in the film High Society (1956)
wearing her Cartier Engagement Ring
Credit: Dennis Stock/Magnum Photos
Los Angeles Times
Grace Kelly wore her Cartier engagement ring in the film High Society (1956) Catch a glimpse in this clip.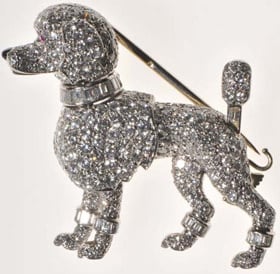 Grace Kelly's Cartier Poodle Pin (1958)
© Les Archives du Palais Princier de Monaco
More Historic Cartier Jewelry at NYTimes.com
Princess Grace had a poodle named Oliver, so naturally, she would have a Cartier diamond poodle pin. The Princess and the Pooch
More Cartier Legends