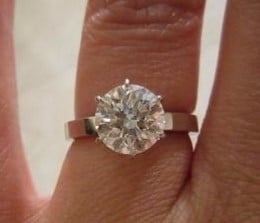 Blingbunny10's Beauty: A Bez Ambar Engagement Ring
Blingbunny10 shared this gorgeous Engagement Ring on the Show Me The Bling Community at PriceScope.com. Proposing on a quiet evening in Paris is a pretty phenomenal proposal from where I am sitting! I love this ring, I love that it looks a bit like spider webbing, Blingbunny10 said that her new fiance has a great love of Halloween that may have subconsciously leaked into his jewelry selection. I think that is fabulous, personal touches that remind you of your love are awesome!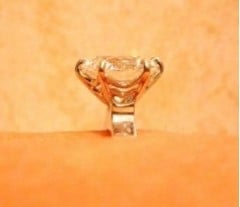 just gorgeous!
This unique setting is from Bez Ambar and it is just gorgeous. This setting is a classic solitaire with a pop of personality plus! That icy white is divine, just call that one Elsa! Just love it, we hope you have continued to wear it in health, and happiness in the intervening years!
The Stats:
Stone: 1.52ct
Color: E
GIA XXX rated
Bez Ambar setting
Size 4
To read more of the story and see more, visit the engagement ring pics here.
For Throwback Thursdays, we take the opportunity to re-appreciate beautiful pieces that have been shared over the years!
Thank you so much for sharing your jewelry experiences with us. Keep revisiting PriceScope's past with us each Thursday!
#TBT
PriceScope offers multiple jewelry search methods learn more about our searches here.
Come show off YOUR fantastic bling with fellow jewelry lovers and trade professionals in the Show Me the Bling Community, here.