Mermaid originally posted show stopping fancy intense yellow diamond ring  on the Show Me the Bling Forum at PriceScope. I can't stop staring at this ring, but that seems dangerous because you aren't supposed to look directly into the sun!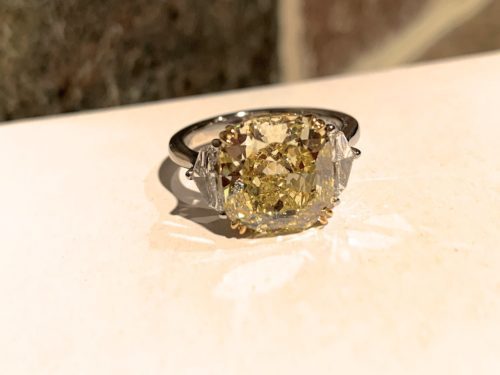 Mermaid (I love the user name, btw) had this incredible ring created by Asteria Diamonds. The yellow color is created by the presence of nitrogen in the diamond. Fancy color diamonds are such an amazing addition to a diamond collection, and this one stands above the crowd. Mermaid then doubled down and posted pictures of some of her collection, it is amazing. We are going to need to see more pics, because WOW! I also think it's great that you are planning to enjoy your jewels and then sell them to support animal shelters when you're done with them. Enjoy life while you are here but leave the world better than you found it, that's marvelous!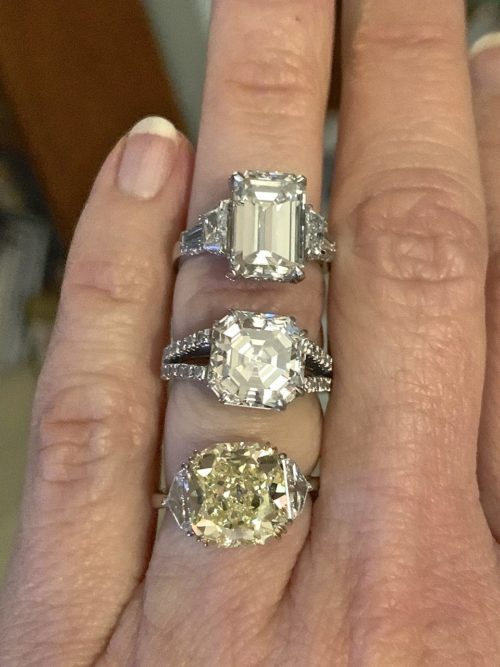 Thank you for sharing this stunner and we hope that you get many happy years of wear out of it! Congratulations on your new addition to your jewelry collection!
The Stats:
GIA specs are:
5.01 carat center
Fancy Intense Yellow
Clarity: VVS1
Even color
Round cornered rectangular modified brilliant (that's why it has the crushed ice look) Because it's a radiant cut in actuality.
10.45 x 9.83 x 5.93
Table: 64%
depth: 60.3%
The side diamonds are cadillac cuts, approx. 1/2 carat. I wanted them larger, but maybe in the future will reset.
Visit the original post with more pics, and join me in congratulating Mermaid!
The Jewel of the Week is our chance to feature and appreciate a recently posted piece from the Show Me the Bling Community!
Thank you so much for sharing your jewelry experiences with us. We look forward to seeing more!
#JOTW
Come show off YOUR fantastic bling with fellow jewelry lovers and trade professionals
Learn more about Yellow Diamonds at PriceScope