Weddings represent love and a wedding band represents love coming full circle which is why we think eternity bands have become all the rage with brides and brides-to-be. We've seen an explosion in the designs which come in multiple cuts and metals which suit every bride's style. Below you'll find a few of our favorite eternity rings and we'll guarantee that you'll find one you love.
Classic Style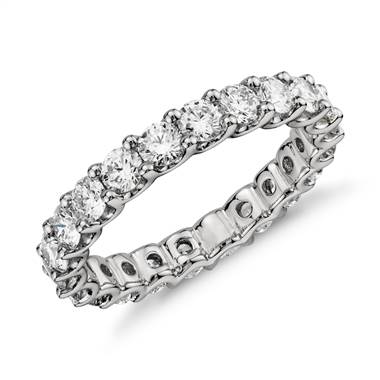 Class never goes out of style and round diamonds won't either. If you're all about classic style, then an eternity wedding band set with round diamonds is for you. The brilliant round diamonds in this eternity band setting are going to give you an amazing amount of sparkle that lasts a lifetime.
Active Style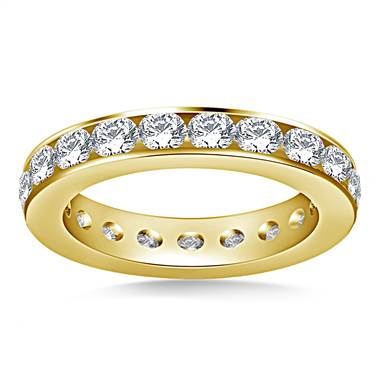 Eternity rings are beautiful, but they can also be susceptible to many of the lumps and bumps that come along the way when you wear a ring all day, every day. You can reduce the amount of daily wear and tear your ring will experience by selecting a channel set eternity band. The channel setting allows the diamonds to have additional protection from the elements while still indulging in your love of eternity bands.
Practical Style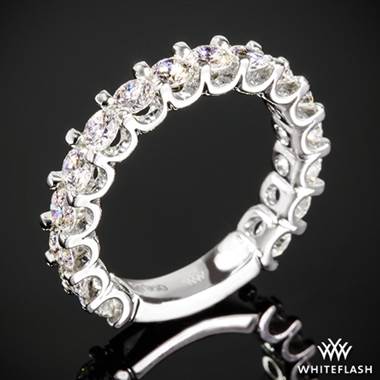 One drawback to eternity bands is that they become susceptible to damage and loose (or worse, lost) stones. This occurs because the stones on the bottom of the band come into contact with multiple surfaces throughout the day, thereby causing the band to weaken over time. Fortunately, you can purchase a beautiful ¾ band which gives the appearance of an eternity band, with a plan band for the bottom. The result is the benefit of an eternity band with none of the drawbacks.
Eternity bands are beautiful pieces of jewelry the likes of which can be seen on royals, celebrities and regular citizens alike. They key to selecting an eternity band that you'd want to wear forever, is by finding one which will seamless fit into your daily life.

By PS Staff