PS Member, Pommom shared this stunning 5.5ct diamond ring with us in Show Me The Bling! on the PriceScope community. When we crossed paths going through our archives, we instantly knew it needed to feature for Throwback Thursday. Beauty like this needs to be shared!
This 5.5ct was an upgrade from a 2ct, so the size was a bit daunting for Pommom. She had concerns about the size, she was worried that it might be too big. I think it looks stunning on her finger and what better way to say I love you than with a massive rock. Yekutiel at ID Jewelry hooked her up with an engagement ring that exceeded her upgrade expectations. ID Jewelry is fond of PriceScopers and knows that we don't settle for anything less than the best. I love that she kept her 2ct. too, because there is a lot of sentimentality in that first engagement ring.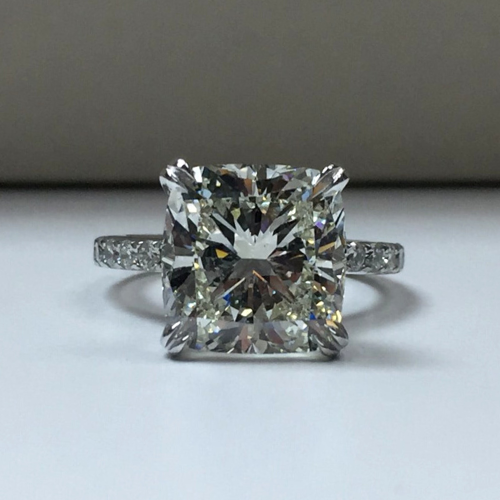 The understatement of the year is that PriceScopers love diamonds, diamonds of all shapes, sizes, colors, and cuts! Sometimes flipping through to pick one piece to feature can be overwhelming, because there are so many to choose from. This one stopped me in my tracks, I love all diamonds but sometimes a big, fabulous rock will take your breath away.
STATISTICS
Shape and Style: Cushion Modified Brilliant
Measurements: 10.56 x 10.29 x 6.67 mm
Carat Weight: 5.516
Clarity Grade: SI1
Color Grade: J
Fluorescence: Negligible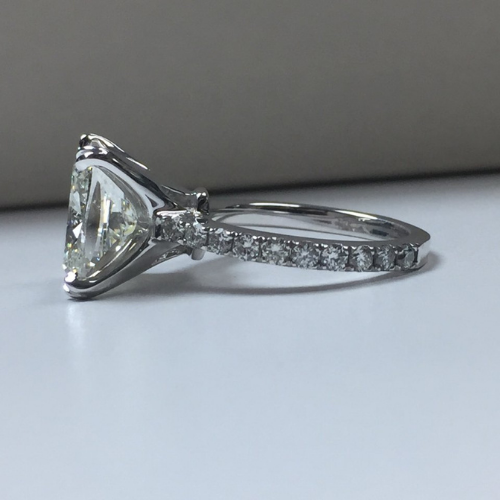 Every Thursday we pull out a piece of jewelry from the Show Me The Bling! archives to celebrate Throwback Thursday. If you are not a member – Register (it's free) and stay in the loop with some of the world's best custom-designed jewelry.
Written by Kayti Kawachi