By
Erika Winters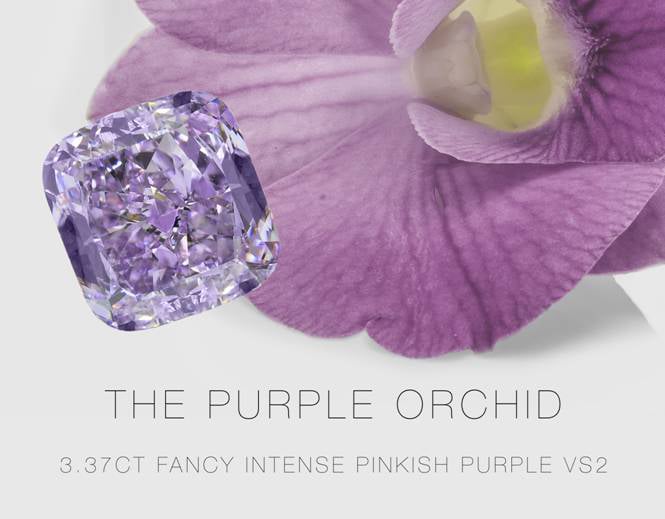 Leibish & Co. is presenting the Purple Orchid diamond at the September Hong Kong Jewellery & Gem Fair
Fancy-color diamond jewelry company Leibish & Co. is presenting its rare Purple Orchid diamond for the first time at the September Hong Kong Jewellery & Gem Fair, which started on September 15. The 3.37-carat diamond was graded fancy-intense pinkish-purple color and VS2 clarity by the Gemological Institute of America. According to Leibish & Co., very few natural diamonds over 3 carats display purple as their main color, though purple is a common modifying color seen in pink diamonds.
The Purple Orchid was found in South Africa, one of the few sources of natural purple diamonds in the world. The original rough diamond weighed over 4 carats and was cut to yield a 3.37-carat cushion shape after 4 months of polishing. The diamond is valued at $4 million (approximately $1.2 million per carat).
"The cause of purple in diamonds remains a mystery, which only adds to the glamour and attractiveness of diamonds like these," said Leibish & Co. president Leibish Polnauer. "There is currently a huge demand for luxury items that are different and stand out, not something that everyone already has.
Jewelry professionals attending the Hong Kong show can see the Purple Orchid at the AsiaWorld-Expo Hall 7 – 7T24.
Related:
Rio Tinto's Rare Red and Pink Diamonds Take Flight

Leibish & Co. Stuns with a 50-Carat Fancy Intense Yellow Diamond at JCK 2013