By
Erika Winters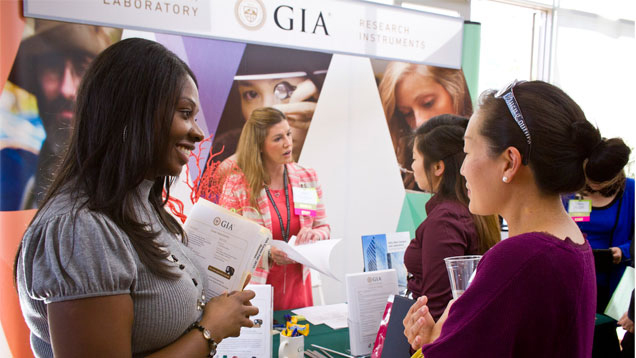 Image courtesy of GIA.
On October 10, 2014, the Gemological Institute of America (GIA) will host its annual Jewelry Career Fair & Open House in Carlsbad, California. The recruiting event–which is free for jewelry job seekers–will be held from 8:00 a.m. to 2:30 p.m. at GIA's 30-acre coastal campus.
The career fair allows job seekers to meet over 25 recruiters seeking applicants for a wide range of positions, including retail sales, management, jewelry design, diamond grading, and CAD design. They will also have the opportunity to meet industry veterans via one-on-one coaching sessions and see panel presentations to help both new and seasoned applicants cultivate their careers in the jewelry industry.
Panel Presentations:
8:30-10 a.m.: "Job Success in Today's Market" moderated by Susan M. Jacques, president and CEO of GIA. Panelists are Alan Bell, president of Rio Grande, Inc., a Berkshire Hathaway Company; Martin Katz, founder and CEO of Martin Katz, Ltd.; Tanya Parikh, director of jewelry manufacturing and sales of K.R. Gems & Diamonds Int'l and Eighternity; and Cathryn Ramirez, group director of Tiffany & Co. in San Diego.
10:30-11:30 a.m.: "From Design to Finish" moderated by Victoria Gomelsky, editor-in-chief of JCK magazine. Panelists are Erica Courtney, designer and president of Erica Courtney, Inc.; Lisa Nikfarjam, president of Lisa Nik, Inc.; Jim Tuttle, founder and CEO of Green Lake Jewelry Works; and JJ Williams, president and designer of JJ NUMBER 8.
1-2:15 p.m.: "Creative Careers" moderated by Mark Smelzer, publisher of JCK magazine and JCKonline.com. Panelists are George Blodwell, celebrity stylist; Au-Co Mai, president and CEO of Emitations.com; Steven Mindel, managing partner of Feinberg, Mindel, Brandt & Klein, LLP; and Sonny Sethi, CEO of Tara Pearls.
Visit GIA Career Fair to register and learn more.