Image: Wedding Prince William of Wales Kate Middleton
When it comes to inspiration, or even just a chance to dream of rings which really set the bar high, you can't go wrong with looking at celebrity engagement rings. With large budgets and a love for bling, celebrities give us a chance to imagine and consider what we'd potentially like ourselves.
While celebrity marriages may not always stand the test of time, many celebrity engagement rings do. Here at Pricescope we've collated a list of 20 of the best celebrity engagement rings of all time, in our opinion. Let us know what you think?
1.     Sophie, Countess of Wessex
One of our most popular forum discussions is all about Royal Jewels. It started out in the early days with eager chat about Sophie Wessex's ring. This ring has really stood the test of time, both in terms of the longevity of the marriage, and its classic simplicity. That's why, for us, it's top of our list.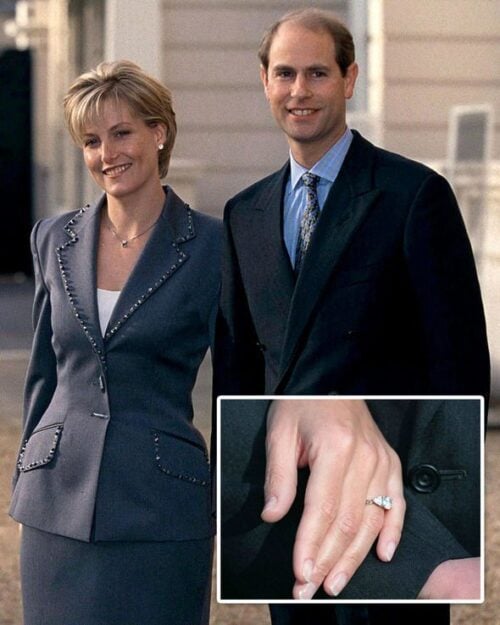 Image:  CDN Images Express UK
2.     Jennifer Lawrence
We love the classic look of Jennifer Lawrence's large rectangle-shaped diamond which has been set on a classic gold band.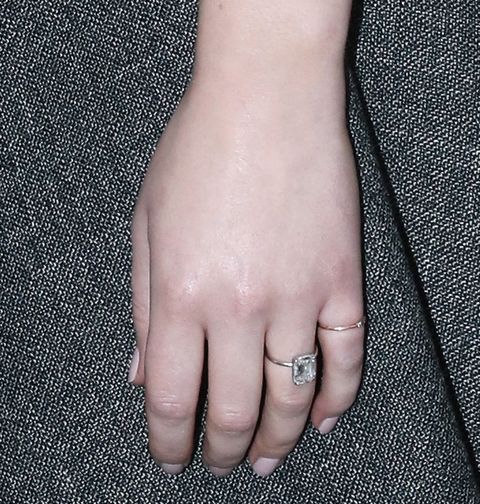 Image: Jennifer Lawrence Ring
3.     Rooney Mara
Actress Rooney Mara, famed as Lisbeth Salander in The Girl with the Dragon Tattoo, has recently got engaged to Joaquin Phoenix. Whilst the ring is ultra-modern, it's made our list because it's a statement piece that achieves something different. Indeed, it's become a talking point on our Celebrity Rings discussion thread.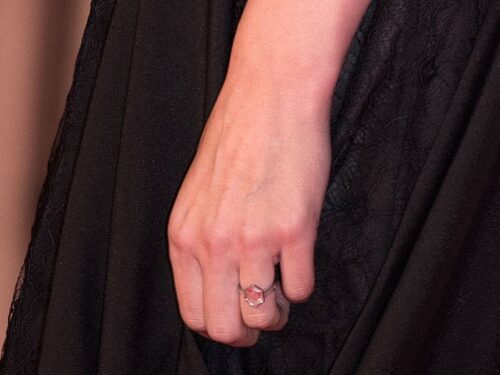 Image: Rooney Mara Ring
4.     Jennifer Lopez
Coming in top of many lists of celebrity engagement rings, is the ring of Jennifer Lopez from Alex Rodriguez. Estimated to have cost $1.8 million, it's no surprise that this striking 16-carat emerald cut diamond is making waves.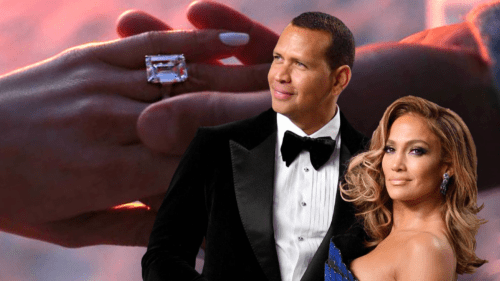 Image: The Daily Beast
5.     Ashlee Simpson
For something strikingly different, and utterly memorable, you cannot beat Ashlee Simpson's engagement ring from her husband Evan Ross. This is a Neil Lane diamond ring, designed as a bespoke piece which really reflects Simpson's personality.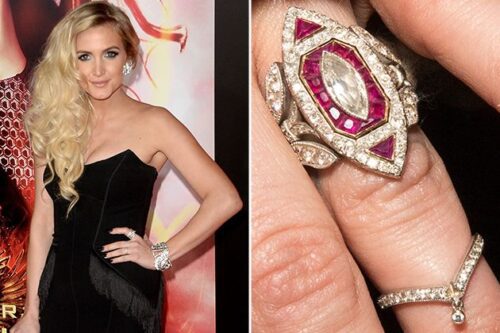 Image: Ashlee Simpson Ring
6.     Scarlett Johansson
Scarlett Johansson's oval-shaped diamond was given to her back in May 2019 by fiancé Colin Jost. The subtlety of the color is mesmerizing and it's certainly a memorable ring.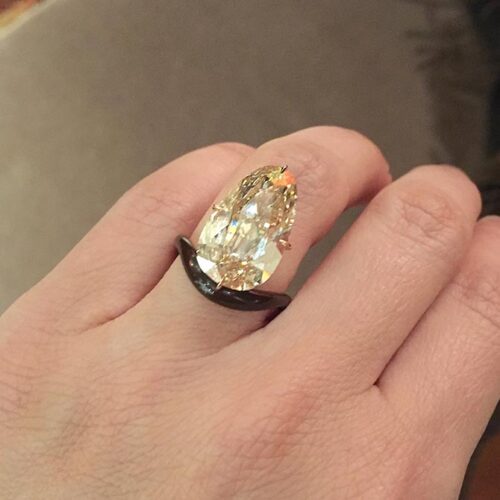 Image: Scarlett Johansson Ring
7.     Meghan Markle
What we adore about Meghan's engagement ring from Prince Harry is how it incorporates two rings of sentimental value, from Princess Diana's personal collection. Yet, they have been set in to a classic and elegant ring.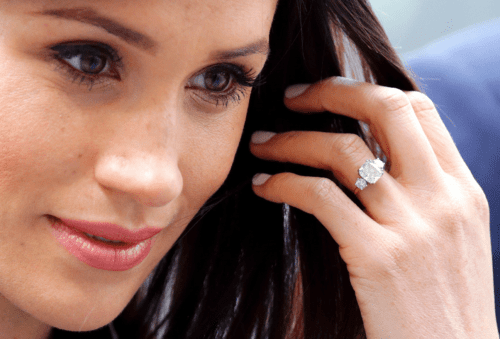 Image: Glamour Magazine
8.     Ariana Grande
The three carat pear shaped diamond, given to Ariana by Pete Davidson, may never have seen it to the actual wedding. However, this striking piece, by Greg Yuna, is a beautiful ring.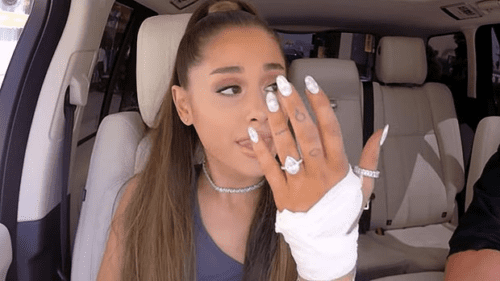 Image: PMC Hollywood Life
9.     Amal Clooney
George Clooney shocked us all with his move away from bachelorhood, but he also shocked us with Amal's incredibly fine-looking emerald cut diamond solitaire.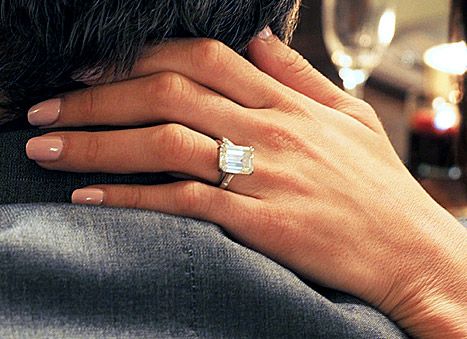 Image: Amal Clooney Ring
10.    Hailey Baldwin
Fiancé to Justin Bieber, Hailey Baldwin, made us all sit up and pay attention to her attractive tear drop diamond.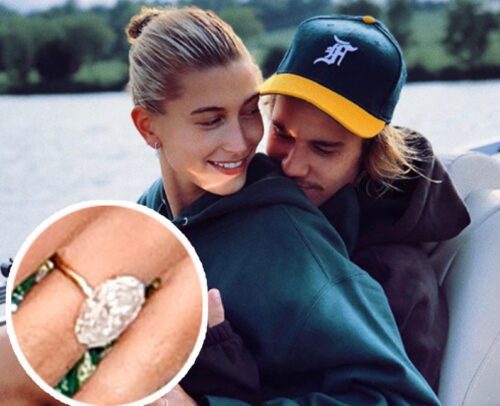 Image: Capital FM
11.     Priyanka Chopra
A ring fit for multiple ceremonies and celebrations was achieved in style when Nick Jonas secured a private ring shopping excursion at Tiffany's. The ring is certainly fit for a Bollywood princess!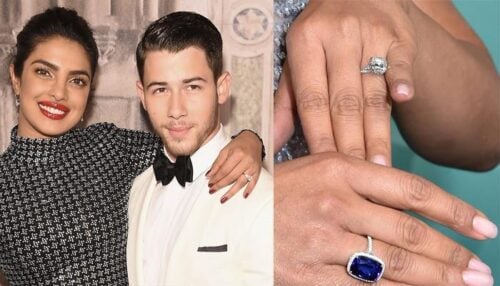 Image: Bollywood Shaadis
12.    Charlotte Casiraghi
A stunning ring, for her wedding to Dimitri Rassam, is the engagement ring of Charlotte Casiraghi. It's a perfect balance of classic design and celebrity statement!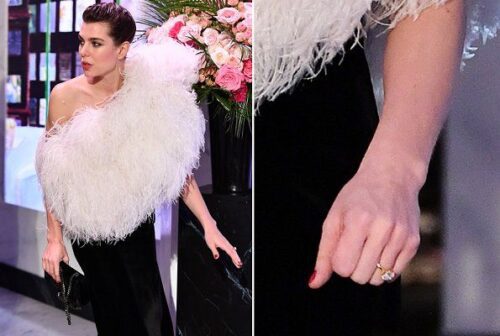 Image: Charlotte Casiraghi Ring
13.    Heidi Klum
We adore the emerald cut deep teal sapphire, which sits in a halo setting with cushion cut diamonds. Fiancé Tom Kaulitz must have earned some extra attention when he proposed with it on Christmas Eve 2018.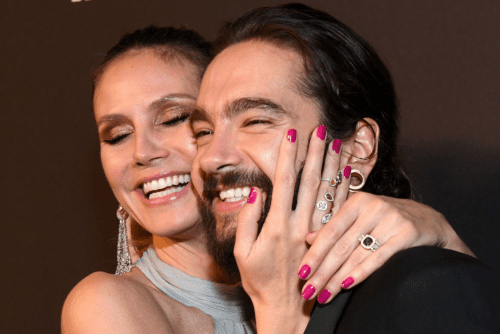 Image: Page Six
14.      Paris Hilton
Another ring which didn't make its way down the aisle, but does make its way on to our list, is Paris Hilton's 20 carat tear drop diamond ring from Chris Zylka. Reportedly worth a staggering $2 million, there's no arguing that it's an incredible piece of artistry.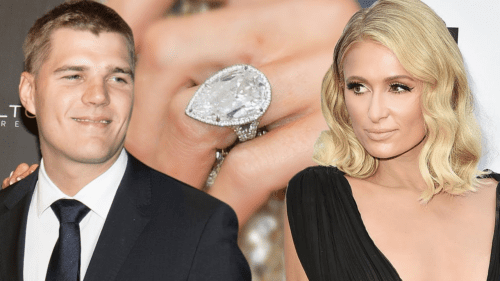 Image: Paris Hilton Ring
15.     Natalie Portman
Natalie Portman's engagement ring is truly unforgettable. Her statement round cut diamond is brought to life by the circle of pave diamonds that surround it.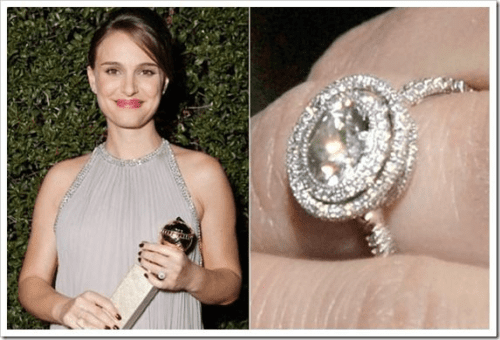 Image: Natalie Portman Ring
16.      Emily Ratajkowski
Fit for a character, and notably different, is the engagement ring of Emily Ratajkowski, which she designed herself. Sitting alongside each other, there is a pear cut diamond and a square cut diamond. Very different, but very beautiful!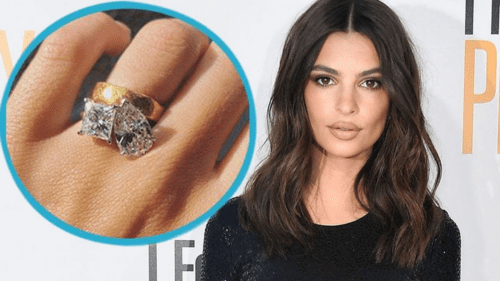 Image: Emily Ratajkowski Ring
17.                        Catherine Middleton
No list of celebrity engagement rings would be complete without mentioning Prince William's wife. The Duchess of Cambridge's ring is an heirloom ring, originally belonging to Prince William's mother, Princess Diana. We even think it would be worthy of being pictured on our longstanding Colored Stone discussion thread.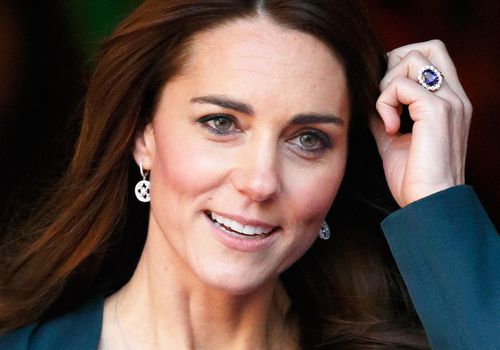 Image: Brides Magazine
18.    Pippa Middleton
Catherine's ring leads us on to listing that of her sister, Pippa. Her ring is distinctly different from that of her sister, but the asscher cut is showcased by the smaller cluster of diamonds.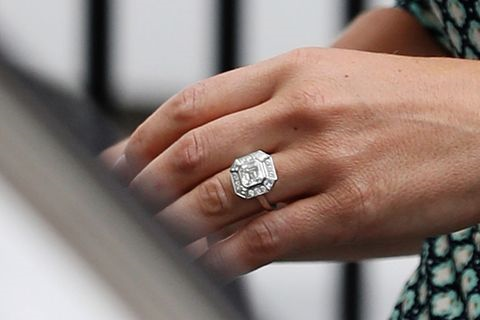 d
Image: Pippa Middleton Ring
19.    Salma Hayek
Salma Hayek's engagement ring actually boasts a single center stone, with two shaped diamonds on the sides. However, what catches our attention here is how these stones blend together to give a uniform priceless look.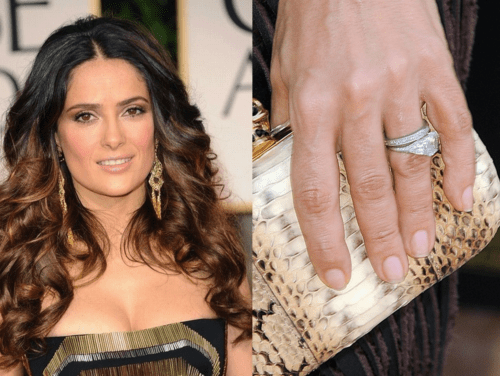 Image: Salma Hayek Ring
20.       Miranda Kerr
The round brilliant cut diamond, which is flanked by tapered baguettes, sitting on a platinum band, is both a striking piece of contemporary jewelry, as well as something classic.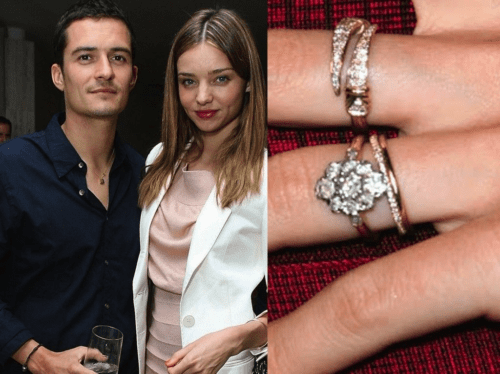 Image: Miranda Kerr Ring
Which are your favorite celebrity engagement rings? Have your say on our discussion forum.

By PS Staff