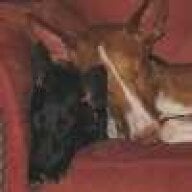 Joined

Dec 8, 2005
Messages

1,862
CC - Wanted to chime in on the sleep stuffs you are dealing with. Calvin is also teething. He now has TWO TEETH! And we had the SAME issue with him before they came in.

By way of back ground, like O, Calvin has always been a good sleeper at night. Going 12 hours for the most part, and we've never really let him CIO...not because I'm opposed really, it just hasn't been necessary.

Anyway, before the teeth really broke through, we had several nights of horrid sleep. We couldn't get him down - totally unlike Calvin. We'd get him to sleep and the minute we'd put him down, he was back awake. He did it another night at like 4a.m. and we just could not get him back down.

Our solution? Whiskey in his bottle. Ha.

Okay, really, we gave him some motrin at night before his bedtime feeding. It really seemed to help. A friend of mine said that her pediatrician told her that teething was so painful that if adults had to do, we'd be in the hospital on a morphine drip!

And as much as it stunk, we went in there and chilled him out when he got really upset. We let him fuss until he was blue in the face, but when/if he really started crying we went in and rocked him, etc.

It only lasted a 3 or 4 nights and he's back to his old sleeping self, *knock on wood*.