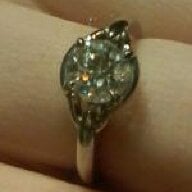 Joined

Aug 31, 2009
Messages

1,199
I'm trying to find the perfect stone to put in an existing setting as a present for my future mother in law. She isn't too adventurous with color and so I think blue is my only option for something that she would actually wear (not that I don't love blue - I do - but this would be easier if I had choices).
One of the usual suspects of cutters has a gorgeous perfectly sized blue zircon. I know some are very against zircons in rings, but others aren't and there are some lovely zircon rings posted on the board.
For those of you who have zircon rings (if you would):
- how long have you had your ring?
- are you super careful with it?
- is your stone damaged at all?
- and would you set another zircon in a ring?
Thanks! Feel free to post more pictures, too!