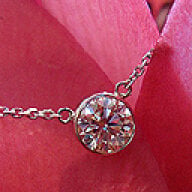 Joined

Oct 30, 2002
Messages

31,003
Okay AGBF...I'm finally here.

Here is my Deviled Egg recipe that EVERYONE loves. It's funny because it's sooo simple and I don't add anything that 90% of the people tend to, and yet everyone raves for it and I have to make something like 4 eggs for everyone at the party or BBQ because they go fast. And I have learned to put them in TWO plates (actually have special egg plates to hold them for travel so they don't slide...$12 at Crate and Barrel!) so that one can go out before the food is ready and then one goes out when the food is on the table, or else they will all disappear before the food!

I also don't MEASURE anything. So I do it by taste.
Ingredients:
-Eggs
-French's Mustard
-Best Foods Mayonnaise
-Salt to taste
-Paprika
Details:
-Boil eggs. Cool slightly, de-shell, cut in half lengthwise & separate yolk from egg. Put yolks in a medium bowl. Put whites (try to be careful and not tear them when cutting, etc) on a flat plate. May need two plates to fit them.
-Mash and mix yolks by hand with mayonnaise and mustard. I don't use a mixer because I don't like super whipped up egg mixture. I like it slightly chunky because it gives it a different taste. I also don't measure out, because everyone's taste buds are different. I have friends who like more tangy mustardy taste and some who prefer the blandness of mayo taste. I personally use something like 1.5 teaspoons of mustard for 1 teaspoon of mayonnaise. Season with salt to your liking.
-Sprinkle with paprika.
-Transfer to egg plate or decorative plate (this way you don't get the paprika all over everything, looks much neater to transfer eggs after paprika sprinkling)
-Cover with saran wrap, chill then serve.
I make this for BBQ's all spring, summer and fall long.