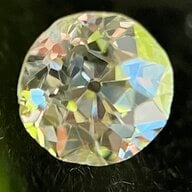 Joined

Dec 16, 2007
Messages

24,364
Comments from the peanut gallery welcome too
OK, I have asked you this before, but I want to ask again: How do you think your butterflies setting would look with a 1.67ct center and .35ct sides? Those proportions are actually very similar to your first incarnation of your ring with your 2ct I Si2... that stone was 8mm and mine is 7.65mm.
My concerns without seeing the ring in person with my size stones: Will the crown center basket get too squishy with my smaller (than yours) center? Will the prongs, particularly the center front and back set, look too prominent on a smaller diameter stone?
I am also wondering if the stock version on
WF
website is version 2.0 (with your 2.7) or the version 1.0 (with your 2.0) because I believe you raised the stones in version 2.0? What else did you do? I know you have tweaked it. Thinned the prongs? I would want to make sure I got the best version, as I cannot send my ring back and forth accross the border for tweaks
Do you think that the center stone prongs can be made more delicate to be scaled down to my stone?
How wide is your shank and how thick (tall) off the finger?
How do you think it would look with a shared prong or pave (one day) diamond band? Ever tried it? I don't mean "look" like esthetics really, since I know you don't care for the look, but rather "look" as in sit nicely beside one another etc.
Any other comments one your setting now you have lived with it are welcome!