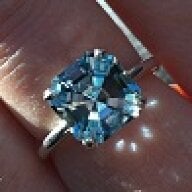 Joined

Jul 21, 2008
Messages

4,881
The last two nights I came home from work I opened my front door to hear my 8 month old male (and apparently stupid) kitten Charlie crying from a room upstairs. Last night I found him locked in our guest room where the litter box is. I just figured that I absent mindedly shut the door on him but I NEVER close that door when I leave for the day.
Tonight I came home to find him stuck in the bathroom! I don''t know how he does it! Everything that was on a counter before was on the floor and he had thoroughly chewed up a brand new roll of toilet paper.
My older cat Emma knows how to open (pull or push) doors if they aren''t latched. However, Charlie only knows how to push. If he is stuck on the other side of a door that is open just a crack and needs to be pulled to be opened he will sit and cry until you move the door open further to let him out. Otherwise he just sits there pushing against it (thus closing it) until you come to his rescue.
Ugh... Cats!

When I just told this story to my friend A (a guy) he sent me
this link...
I think that calls for many eye-roll emoties!