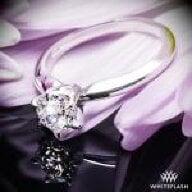 Joined

Jan 13, 2016
Messages

51
So I just thought it might be fun to have a thread about how our respective others' feel about e rings, diamonds etc.
Quick background: I am pretty new to the world of diamonds and had never before thought of myself as the kind of girl who'd want a diamond e ring. I thought my wants were more unconventional and I felt a little smug about it
But then I saw some photos online of visible arrows in H&A cuts and THEN I was completed hooked by the photos Sarah Ludwig posted of her (huge)
BGD
e ring - the way the photographer captured the play of light in it is purely magical (this is the link for anyone else who wants to be reminded of why a diamond - with an amazing cut - is the most beautiful gemstone in the world... preaching to the converted, I know:
https://www.pricescope.com/community/threads/thank-you-brian-gavin-im-in-love.199562/
) and I thought if I could own anything close to that beautiful (if never that big unless I win the lottery or a distant hitherto unknown relative leaves me a crazy sum of money...) then I would be very lucky indeed. I had seen the light, literally.
My FI is not from the kind of background where engagement equals a diamond ring. Not because he is not a generous guy because he is - to a fault - but because he never even thought along those lines (and neither did I, but for different reasons, because in my background a diamond is pretty standard, though not in the US sizes - you guys have huge diamonds, 1ct seems standard or less than?). He is fiercely non-materialistic (that in itself is a rare gem in this world) and free-spirited. Luckily for me he also wants more than anything to make me happy, but it still came as a bit of a shock to him when I gently announced I wanted a diamond e ring of around .75ct (initially I had a sim which had also been my choice). That said, now he's seen my new ring he is blown away and is beginning to see the light - he isn't just pleased that he's made me happy, but he feels proud that he's got it for me as it is so obviously a cracker of a ring

I was also shocked that he knew what an eternity ring was
- we were talking about e rings and he mentioned something about eternity rings. 'How do you even know there IS such a thing?!' I asked and his reply was pretty priceless: 'It's a sweetener, isn't it? You might not have paid your woman enough attention recently, your 5 year anniversary is coming up - there you go, have an eternity ring!' Maybe it's more like us women make them THINK they haven't done enough recently, and so we can start dropping hints about eternity rings!
Anyway,
I would love to know what others' partners are like in this respect and also how YOU got into diamonds
. And how bad is it to get really hooked?