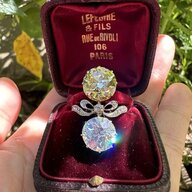 Joined

Feb 12, 2018
Messages

3,659
Wow! That's gorgeous

@JPie

! You have the most beautiful pieces!
Thank you! I am trying to switch gears and focus on buying fewer, truly unique pieces vs. a lot of less expensive ones. We'll see how that goes...
oh my goodness!! You lucky lucky girl!!! So glad it went to a PS'er!! I also enquired with Tracey about the brooch but the price was too rich for me. Do enjoy and post a gazillion pictures when you get it so I can live vicariously through you!
Did we talk about this before? I recall having a conversation about it with another PSer but I can't remember who!
I made her an offer and the rest is history!