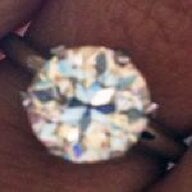 Joined

Jul 12, 2007
Messages

2,404
Let me preface by saying that one of my favorite phrases is telling people, "It's not all about you". My family is very self centered so the phrase sings in my head almost every single conversation. Imagine my surprise when my mom tells me that very similar phrase today. My husband was just promoted in the military and with it comes a ceremony that involves me. I will adorn his uniform and he officially becomes his new rank.

My mother asks me to take pictures so she can show everyone at her work and for some reason it irks me (probably because it's not that she wants the pics for herself but that she wants to brag to her coworkers). I tell her that I'm not sure I will be taking any and she tells me that I must! I tell her I'm not sure I want to because it's my day and I want to enjoy it and I don't want to take pictures because I have to. So, she tells me that it's not all about me. I tell her that, of course it is, it's both of our day's because it's my husband's accomplishment. She continues disagreeing saying it's not.

Then, I start wondering how she could not understand because she was married for 25 years. I know when I got married something in me starting shifting and we became more united. Certainly celebrating 13 years marriage has made us this way. His successes/failures became our successes/failures and vice versa.

Now I'm wondering if I'm being one of those "it's all about me" people.

So, now I'm curious, how do you feel in your marriage? Is your husband's successes/failures solely his or do you share them? Is anyone like us?