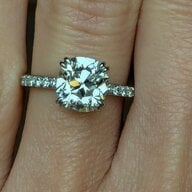 Joined

Jan 21, 2006
Messages

10,591
warning (long)
For those of you who have been keeping up with my dress saga... I started out with a flowy gown by shelli segal ($130, but requires about $200 worth of alterations), and then on a whim I bought a cheap j.crew dress ($7
. Eventually I decided on keeping the shelli segal dress and I actually ended up *making* $20 when I sold the j.crew dress on ebay. However, I started to have doubts, major doubts.
I recently discussed the guest list with fi''s mom and it''s getting bigger and bigger!!! EEk! They mentioned that they would chip in more since their guest side is going to be about twice the size of my side. Also, fi told me that he and the other groomsmen decided to go with tuxes instead of black suits, and my mom decided on getting the prime rib instead of the chicken! Everything is changing and it''s getting bigger, more formal, and more expensive by the minute. Luckily both of our parents are helping out, but it unfortunately the 100+ guests or so and a more casual theme is now gone and the wedding has turned into a more formal event with probably about 175 guests.
After this started...I really had doubts about my flowy casual gown. I''m just not convinced it''s appropriate for the occassion and the fabric is a little thin and that''s always bothered me about it. In addition, I think I''ve just had doubts about it from the first place and I think that''s why I ended up getting the j.crew gown.
So...I''m going to go major dress shopping this weekend and I''m going to try on *every* gown I see that is under $600. I''m going to try to go in without any preconceived ideas about what looks good on me or what type of dress I *should* wear. I''m even going to try on pouffy gowns, which I was totally against in the first place.
Wish me luck!!! Please tell me I''m not psycho!! Any tips for getting back out there and picking a gown??? Thanks gals, I appreciate your support.