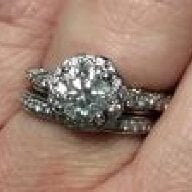 Joined

Nov 21, 2014
Messages

661
...bought the three-stone Tacori that I had "lost" (long story) before I decided on getting a halo for my reset over a year ago. It was kind of the "one" that got away. I happened to see it on Overstock and they were having an amazing sale (seriously amazing!!!). I feel kind of naughty about it because my hubby doesn't see why I need another ring. But, I'm using "my" money and it's my birthday tomorrow. Plus I am likely having a surgery in the near future; it would be lovely to stare at another beauty while recovering.
I love the compass settings and the gorgeous profile. And I really love three-stones that have some definition in between the stones. And I just really dig the wide finger coverage with a three-stone. (Just like I love the finger coverage of the halo, but in another way.)
I'm planning on putting a blue sapphire in the center OR a lower-colored AVR or OEC (but not for some time, maybe next year?!). I do recall that PS pro's and prosumers alike were concerned about the prongs on this one. I'm hoping it won't be an issue. Once I do "reset" the CZ, I would use a trusted Tacori/PS jeweler or amazing benchie. It would be a once and done reset.
Here it is... what do you think?!