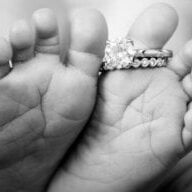 Joined

Nov 18, 2007
Messages

1,485
I''m on week #2 of work and what I''m calling the "probationary period". I''m more confused than ever. I''d like to just vent and post my pros and cons. I hope discussing salaries isn''t too distasteful. I think it helps to put that out there though.
Pros for staying at work:
Adult contact
Self worth in the area of working...using my brain, I suppose
Retirement
College for Alila
Keeping our lifestyle
Great benefits
Pros for staying home:
Alila (this can count as 100 items on this list, of course)
Keep up with housework
A chance to get out of this field and find something else in 6-9 months
Breastfeeding (less pumping!!)
See family more
Spend more time with husband (he doesn''t work mornings)
DH makes 6 figures - not really a pro, but just shows that we could live on his salary alone
Cons for staying at work:
Don''t love it
Miss my baby
Pumping
Company about to limit internet access


Distance from home, traffic
Cons for staying home:
Lose $50,000 salary
Switch to husband''s benefits (not as great)
Cut back on things (sell my car, not as many trips, etc.)
Having to look for something else in this economy in 6-9 months
Hmmm, can''t think of many cons for staying home.
This is SO difficult for me!!! It''s really scary to think about quitting a decent job, but I know it''d be worth it. I could see myself regretting staying at work a couple months down the road. I really doubt I''d regret staying home for 6-9 months.