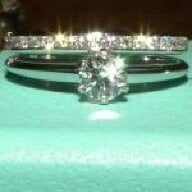 Joined

Dec 22, 2009
Messages

140
I've currently got a platinum ring. Looking at a potential upgrade.

Everything I've read about platinum makes it seem to sound more favourable. Most people seem to recommend it over platinum.

- however -

so many people on here have white gold, not to mention, despite all of the good qualities of platinum, many people have said their jeweller recommended white gold, probably because it is easier for them to work with, but still...

I've not got a problem with replating white gold, and I actually don't like how much heavier platinum is on my hand... my main concern is the longevity...

so my long winded question is: white gold wearers: why did you choose it instead of platinum? How long have you had your ring? Has it worn down over time and if so was it difficult to repair? If you're vigilant about upkeep, does it really make a difference that gold metal is lost when scratched and platinum is only displaced?