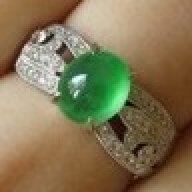 Joined

Dec 23, 2009
Messages

261
1.79 ct
7.2 x 6.1 x 4.6 mm
Origin: Namibia
I'm debating whether to buy this one...
I don't have a demantoid, so I'm tempted to collect this one
I kind of know that this is not considered an ideal color
but in gem show, I've seen chrome green Russia demantoid for over 10k$/ct
far beyond what I can afford...
So shall I get one with not so good color but propably good dispersion?
What do you think?
Will it look lovely in person?
Thank you~!!