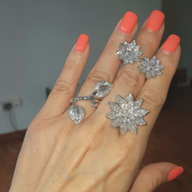 Joined

Oct 5, 2006
Messages

9,974

I am so happy!!
I've always wanted to make a few desserts/ sweets but have stayed away from them for a long time, for fear of putting on weight. Recently, I thought oh heck, I might as well as just make them now or I never will.
I got the recipes for tiramisu from another thread (thanks again ladies) and really really wanted to make it for our dinner party tomorrow but I just couldn't find lady finger biscuits (we live in Singapore and things like that are not easy to get). So, I thought, hmmm: I could try and make scones (from another thread, those look so delicious!!) but scones are more for tea. And I really wanted to have a nice tasty home made dessert to go with my boeuf bourguignon. I decided to look up a few recipes on the 'net. Don't even have a scale or a mixer. I decided to just go ahead anyway. Mixed everything together by hand, added the ingredients, popped a few trial cookies in the oven and
voila!!
They are soooooo YUMMO!!


Will try and take pics of the cookies once I've baked them tomorrow. I've already eaten the trial ones before I even thought of starting this thread! They are *that* yummy!

One Q though: I've made this huge batch and put them in the fridge. Shall I continue to keep them in the fridge or shall I transfer them to the freezer? If it is the latter, when I bake them tomorrow, will I need to put them straight into the oven from the freezer and if so, how long will they need to bake for? (The ones today, I baked them in a pre-heated oven at 170 degree for 18 minutes). Thanks.