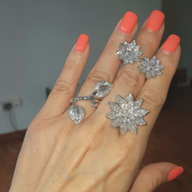 Joined

Oct 5, 2006
Messages

9,848

I was quite heavy during the summer last year. At one point when I was really heavy, I was 118lbs. I think I kept piling on the weight after that, but was too scared to continue to weigh myself. I just didn't want to know! At one point, I could barely fit into a size 6 and believe you me at 5'2" (and a small-frame), that was a lot of fat on me. To make it worse, most of the fat was around my tummy and waist which is the most unhealthy and dangerous fat of all to have.
I started losing weight in Nov & Dec last year and also started a new workout regime, healthy eating schedule around Jan/ Feb. I've also been drinking my own herbal tea on a daily basis and cut down on the booze too.
It feels soooooo good to finally fit back into my 'skinny' clothes, not to mention that I feel so much heathier and fitter now. I'm also glad to have gone down from a 34 double C to a much lighter 32B.


Just thought I'd share it with you, PS'ers!