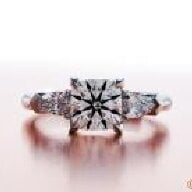 Joined

Apr 4, 2010
Messages

9,667
1. Dancing to 'At Last' for your first dance
2. Tiny food (cupcakes)
3. Still life photography (like an artistic photo of your dress hanging)
4. Tables named after the couple's not-so-interesting interests
5. using the term bridezilla
6. Guests as photographers
7. Dogs as ring bearers
8. The roast toast
9. The laid-back theme
what do you guys think?
here are my thoughts...

1. Dancing to 'At Last' for your first dance
-this is a classic song but overused...but if you want to use it then why not?
2. Tiny food (cupcakes)
-not my favorite but no strong feelings either way
3. Still life photography (like an artistic photo of your dress hanging
)
-I actually like some of these mixed into the wedding album
4. Tables named after the couple's not-so-interesting interests
-depends on what the names are! I think this is fun and a great way to personalize your event. we are using table names
5. using the term bridezilla
-kind of sick of this one
6. Guests as photographers
-not a fan
7. Dogs as ring bearers
-a fan when it makes sense based on the venue and the dog
8. The roast toast
-not a fan
9. The laid-back theme
-the article mentions that this is becoming more of a theme and not really a way to save money.
"Beachside and barnyard were once affordable alternatives to banquet halls. Now they're just banquet halls custom-built on a beach. The bride walks down the aisle barefoot, the groom dons a linen suit and together they're married beside the crashing waves and the $10,000 Moroccan tent decorated with velvet couches and belly dancers paid to stand like mannequins and hold bowls of hummus. But guests take home rubber flip-flops as party favors, so it's still really a whimsical, simple little affair."
no strong feelings...