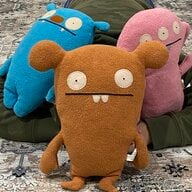 Joined

Oct 24, 2012
Messages

12,071
Hi Everyone:
I'm having an itch on my left arm. My VCA butterfly is feeling lonely, and would like to find another delicate piece that I would stack with. I'm very bad with bracelets. Once I put them on, they stay on forever. Even though my VCA is turquoise and white gold, and there is all kinds of stuff I shouldn't be doing with it, I do anyway. So I would like a piece that is more durable, preferably gold or diamond.
I would like to stick with white gold b/c I'm matchy matchy that way. My ering is platinum and I want to stay with the same metal color.
I want the piece to be on the delicate side. I tried wearing my almost 5 carat tennis bracelet with it, and it is quite overwhelming to me.
In my mind's eye, I can see another VCA piece, small and delicate, that would be comparable in scale to my butterfly so it complements rather than competes, or MAYBE another tennis bracelet, but a very skinny one.
So here are the contenders. I think price wise they are close.
I am borrowing my mom's skinny tennis to test out for a day or two. There is a local B&M whose tennis bracelets I like a lot. Initially, I think would prefer not to have too much diamond bling on this hand because I like my ering to be the star. But I have to admit a skinny line of bling is pretty.
I don't have a pic of this VCA piece on me, cause they are out of stock. $3000 This is pricey b/c it's got diamonds. It's the only bracelet with a sweet motif in white gold. I would seldom take this off.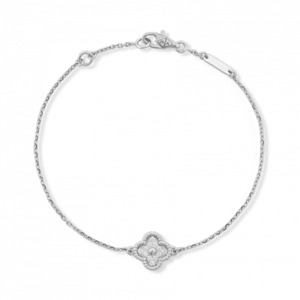 Or maybe this from Cartier, my cheapest option. Honestly this isn't as pretty in the case but it is quite lovely and delicate on.
Lastly I admit that as pretty as my AVR necklace is, I am bugged a little by having all these circles around my face. I have round studs, round ering, round everything. Maybe I stick the AVR into a bezeled bracelet and then get a sweet motif for my necklace or the Cartier orchid which I have always found to be so pretty.