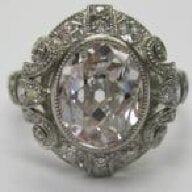 Joined

Jun 6, 2010
Messages

6,863
purchase a piece of jewelry with the sole intent of pulling the stone(s) out and selling or scrapping the setting? Especially if the piece is really pretty, but just not something you'd wear.
I've been hunting for an OEC to match one I already own to make a set of earrings and I've come across several pieces that have the size/color/clarity stone I'm looking for, but I don't have the heart to buy it just to tear it apart.
Am I the only one who feels kinda bad about the idea of tearing apart a pretty antique piece? I feel a little like a vulture. However, it's making my search for a matching stone that much harder!