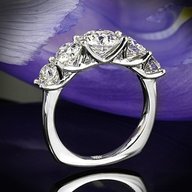 Joined

May 10, 2013
Messages

51
I know my question isn't the first, and I have read many posts here over the last few years.
I am helping my nephew buy an engagement ring (to the point of, I'll pay for the difference if you'll insist on a super-ideal-cut diamond(s)). Like many of us have experienced buying a super ideal cut diamond/ring "over the phone", I feel I got a better ring, much better diamond, while paying slightly less than my local jeweler would have charged for a bottom 1/3 of the range GIA triple-EX diamond (which is the best they could source, after much pain and me finally insisting what they normally sell isn't good enough).
[Not to mention, one can get any one of several of the jewelers who sponsor this site to make whatever you want*, without going through the hassle of finding that exact ring in someone's store or catalog.
* In his case, he might want: a simple halo design, 1 to 1.5 point diamonds in the halo, 2 to 2.5 point diamonds along the sides, a cathedral style to help support the halo, and 0.8 carat center stone (we're looking VS2 range, G or H color). He doesn't want large diamonds along the sides of the ring but does want to be able to tell they are diamonds as opposed to chips. Maybe 2mm max. width of the band. Shared prong setting for the melee diamonds. Platinum material.]
Here's the rub; my nephew might not have the confidence to buy from one of the jewelers we "know" here, despite my encouragement, so he could end up purchasing a ring from his local jeweler.
And here is my question:
If he can accomplish/learn the following, do you think he would be getting what I'd call a 95% to 98% diamond, what Whiteflash would call a Premium Select or Expert Selection, what Brian Gavin would call a Signature Blue. Something clearly better than average to the average person (or fiancee):
Could he
a) purchase nearly any AGS0 (cut quality) diamond
OR
b) purchase nearly any GIA triple-EX diamond with an HCA between 0.5 and 1.5
I have an ideal scope; i
f he is looking at a diamond in person that meets the above criteria and he sees anything resembling arrows as shown in the photo below, is he way beyond getting a good or "just" very good diamond?
Another less important question:
When I was at my local jewelry store and started talking about higher quality diamonds at one point (about the same point as I changed the subject, because I thought he was trying to "snow" me or didn't know any better) the local salesman told me "All diamonds have arrows." I was thinking most diamonds don't, including the bottom of the GIA triple-EX range. Am I correct?
Crude image, taken while holding ring and partially-centered IdealScope in one hand and camera phone in the other: