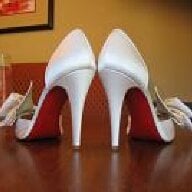 Joined

Nov 13, 2007
Messages

5,720
My venue, which I

and has always responded within 3 hours of an initial email, held an open house where they had vendors, that they often use, come in and show what they "offer".
Well, I met a MUA that I liked and she actually works there at the club. She works the front desk of the hotel part, and the hotel only has 25 rooms. My venue coordinator gave me her info last Wednesday, and I wrote the MUA an email to an aol.com address (not work). After not hearing anything back by Friday, I tried to call the cell number given to me, but her cell was disconnected. So I contacted my coordinator to get another # for her.
She wrote back, "That's weird, I asked her for her email and # right before I replied back to you." Which means she knew someone was trying to get in touch with her. Her email went on to say, that she would be out until Monday when she worked from 7-3, and then I could just call the front desk to speak with her. No email back this weekend. So yesterday about 11am, I called the club and the head lady of the hotel department answered, she said that the "girl" had stepped out for a few mintues, so I left a message with my wedding date and my cell phone as a contact. Still haven't heard anything back.
I would just say screw it and use the other company I have lined up, but she has incredible prices for the amount of things I need done, and I assumed she would be just as responsive and helpful as EVERYONE else I have dealt with at my venue. I mean we're talking half the price to go with this girl.
First question, if I decide not to go with her, which I shouldn't b/c this has huge red flags (I know
), would you let the people that you work with at the venue know that this has irritated you. I have been 110% happy with my venue until now. I know it has only been a week, and if this was any other random vendor I probably wouldn't be irritated for at least 2 more days, but she is marketing to brides that are ALREADY booked at the place where she works during the week.
Thanks for letting my vent. Any advice? Should I contact my venue coordinator again to see if she can get an answer from her?