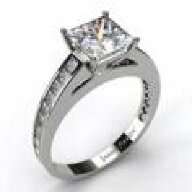 Joined

Jun 14, 2011
Messages

6
Hello all,
This is mainly a question regarding proportion and how to get the "wow" factor I want out of my 1.17 Princess cut we just bought today.
I am really excited about the purchase but we did sacrifice in size because I am a color person - and I love a beautiful white-looking diamond. We also had a budget we had to work with. I originally wanted a 1.5 carat....and went in today to look at anything from 1.2 to 1.25 and we ended up with the 1.17 because it was whiter, and beautifully cut.
I studied up for months so I know that cut is a lot of what makes a diamond pop....but now I am worried about the setting we will have to choose and the size of my fingers/hand in comparison to the diamond.
I don't have the exact specs or pictures at this time, so I am aware that opinions would have to be based on what you may have seen...my apologies for no real specifics. The cut is beautiful in my opinion...and I paid extra attention to the sparkle and I feel like it's super sparkly. I wear a 5 3/4 size ring....we went with a 1.17 carat princess and I am planning on a thin channel princess or pave setting.
Please let me know what you think in relation to the finger size...carat size...honest opinions please! Do you think this ring will have a little bit of wow factor to it if I place it on a thin band? Or have I gone wrong? We put the deposit down and I believe we could transfer it to a different diamond if we must.
Sorry for no pics and thanks ahead of time!