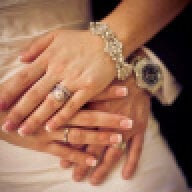 Joined

Sep 5, 2007
Messages

2,201
I''m sure there are a ton of TTC topics but I''m doing the usual posting from work thing so I have to be quick about it.

Anyways we''re leaving for our honeymoon at the end of May. I was supposed to start my birth control pill pack on Sunday but haven''t yet. We haven''t been doing anything this week so far though so nothing to worry about there. I''m debating getting back on the pill for another month or just staying off and starting to seriously chart when I''m ovulating.
I''m also 37 years old and turning 38 in June so I''m not sure how hard/easy it will be for us to get preganant.
I have a few questions about what to do here. Should we go in and get checked out now, to make sure we''re fertile so to speak? We have great health insurance right now and could probably do this. If so where do we go? Does DH goes to his regular doctor and I go to my obgyn?
Also if we start TTC this month, what if I get pregnant pre-honeymoon at end of May? Will that affect our trip or be bad health-wise? Should we wait until then to TTC?
I''m so new to all of this and DH wants two kids and I''d like to get going before 40 if possible.