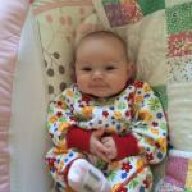 Joined

Jun 23, 2011
Messages

1,442
Your DH's ex (of like 8 yrs) just got engaged to a guy that looks almost identical to your DH? How about if she posted shots on FB of her ering and it not only was identical to yours, but was purchased from the same online vendor?
Why do I ask? Because it just happened to me! I can only describe it as creepy. Imagine looking at a photo of your ering in the ring box, then looking at nearly the exact same thing but with flowers around it on your SO/DH's ex's profile.

ETA: Her FI even dresses like my DH!

It's so weird it's funny!